Men's Hair Loss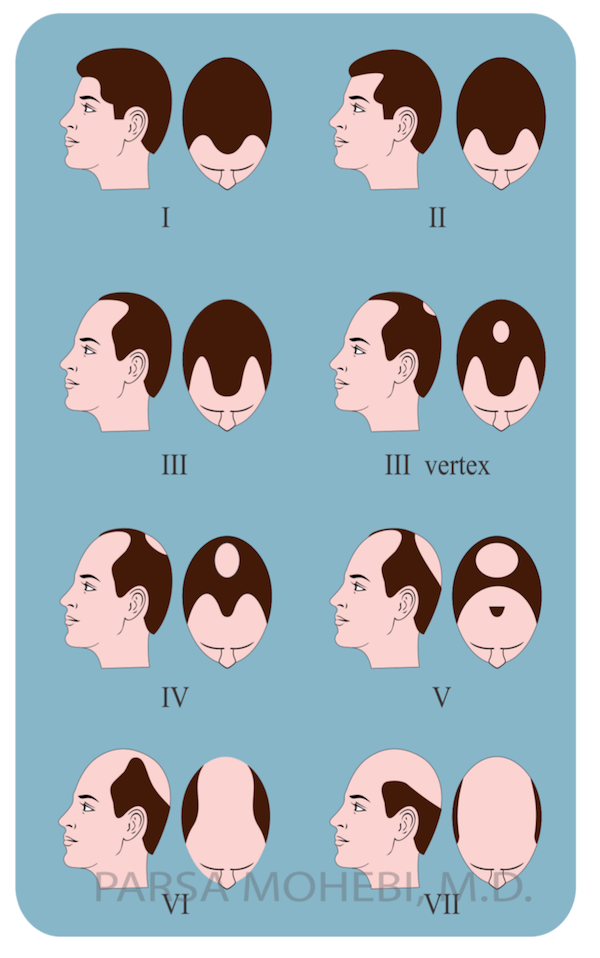 Male hair loss, also known as Androgenetic Alopecia, or most commonly male patterned baldness (MPB), affects more than half of the global male population no matter what race or ethnicity.  The last several years has shown great progress in the medical treatment of male hair loss.  This is due in large part to the higher incidence of men who are seeking treatment.
Hair transplantation is the only permanent solution for male patterned hair loss. It is now one of the most in demand cosmetic procedures due to new advances that have improved their safety and efficiency.
Causes of Baldness in Men
Although it has already been determined that there is a genetic predisposition to hair loss, more recent studies are being conducted to find the exact cause for male patterned baldness.
The DHT Hormone, also known as Dihydrotestosterone, is a major contributor to male pattern baldness.  Dihydrotestosterone is produced from the male hormone, testosterone due to activity of the enzyme 5 alpha reductase.   This causes the hair follicle to shrink and eventually die off.  Miniaturized hair will appear very thin and short. The progress of miniaturization will depend on the individual's genetics and their hormonal activity.
Hair loss can occur as early as in one's late teens depending on the progress of miniaturization.  The Hamilton Norwood Scale is used to determine different degrees of hair loss.
Hair Loss Treatment
There are many surgical and non-surgical treatments for hair loss.  Hair transplantation is the only permanent solution to male patterned baldness.  Advanced techniques in modern hair restoration have greatly improved the safety, efficiency, and naturalness of transplanted hair. Medical treatments that have been approved by the FDA include medications such as Minoxidil and Propecia. Minoxidil is a topical medication that is applied to the balding areas and is only effective when taken on a regular basis.  Propecia is an oral medication that must be taken every day. These medications are most effective when taken during the early phases of male patterned baldness and could be recommended in addition to hair transplantation.