FUE Hair Transplant Los Angeles, CA
FUE Hair Transplant in Los Angeles, CA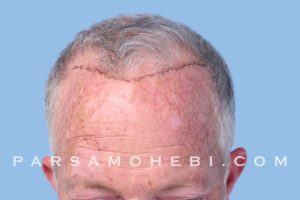 If you are experiencing hair loss on the scalp, and are not sure what to do about it, the treatment solution you need might be answered by three letters: FUE. Hair restoration can be performed on patients with varying levels of hair loss by undergoing FUE hair transplant Los Angeles, CA.
The look of balding areas on the scalp, or hair that is thinning, can have a negative impact on the confidence of a person and make them want to wear a hat to hide the appearance of their scalp.
Thankfully, there are medically advanced hair restoration techniques available to rejuvenate the hairline and provide a patient with a more youthful and refreshed look.
One popular hair restoration technique, that provides long-lasting results that last a lifetime, is known as Follicular Unit Extraction (FUE). The performance of FUE hair transplant in Los Angeles, CA is well-known for not leaving a scar in the areas of the scalp where the hair grafts are removed. Learn more about FUE below and see how it compares to another popular hair transplant method known as Follicular Unit Transplantation (FUT).
FUE vs. FUT – Hair Transplant Differences
Patients that want more information about having a hair transplant should know there are two main surgical hair restoration choices. The two hair transplant techniques are FUE and FUT. Both procedures require your surgeon to remove hair grafts from the donor area of the scalp and then implant them in the balding or thinning areas on the head.
Here are the differences between these two hair transplant methods:
FUE is when the surgeon individually removes hair grafts from the donor area (usually the back and sides of the scalp) on the body. The removed hair grafts are placed in the balding area of the scalp. FUE is known as being a less invasive procedure than FUT because it does not leave a visible scar.

FUT is when the surgeon cuts a strip of skin from the scalp. The skin strip is removed so the hair transplant doctor can move the hair follicles, in their natural grouping, to the scalp sections that are thinning or balding. FUT will leave a noticeable scar on the section of the scalp where the strip of skin was removed which means it can be obvious to others that a hair transplant was performed.
If you want more information about the differences between FUE and FUT hair transplant in Los Angeles, CA, the experienced hair transplant team at Parsa Mohebi Hair Restoration is ready to answer your questions.
Common Causes of Hair Loss
Hair loss can be caused by a multitude of different issues. For many people, it's a hereditary condition that was passed down from their parents and so on. For others, their hair loss is due to underlying conditions, stress, effects from medicines, steroids, and more. Hair loss also goes through different stages which shows itself in different forms. For some people, this will be pattern baldness that may begin with a small amount of hair loss progressing its way through more parts of the head. Other people as they get older may also see their hair thinning. If you are concerned about your hair loss and wish to fix this issue, then consulting with a doctor who performs hair transplants is beneficial. Your doctor from Parsa Mohebi Hair Restoration can fill you in more on why you are suffering from hair loss and let you know if you are eligible for a FUE hair transplant in Los Angeles, CA. Contact us today to get your treatment started with our experienced and skilled doctors.
Who Can Receive A FUE Hair Transplant?
Not everyone is able to receive a FUE hair transplant. Different details involving age, amount of hair loss, and other factors will all be involved in determining eligibility. For most people who have not yet aged to their mid 20's, a FUE hair transplant may not be beneficial as people in that age range generally have only begun to see small amounts of hair loss. However, if the hair loss is significant, then your doctor may advise on this treatment. For other people who are over their mid 60's, it could be possible that their hair is too thin to make this type of treatment worthwhile. This type of procedure is generally performed for people who fall between those 2 age ranges and who still have enough hair to pull from in order for it to make a lasting difference on other parts of their scalp. Consult with a doctor from Parsa Mohebi Hair Restoration today to learn more about whether or not it is advised for you to get a Los Angeles, CA FUE hair transplant.
Can Women Receive This Type of Treatment?
Many people think of men when it comes to hair treatment and baldness, but numerous women suffer from the same problems and are looking at their options for restoring their hair. A FUE hair transplant is definitely something that women can consider as women receive this treatment as well. Women typically have a thick amount of hair on the side of their scalps which can be used to fill in other areas. If you are a woman and are considering a FUE hair transplant in Los Angeles, CA then consult with a doctor from our restoration service today to learn more about this procedure and if you meet the criteria. Your confidence, aesthetics, and overall positivity could all be increased with this procedure performed by our experienced and skilled hair transplant surgeons.
Contact Parsa Mohebi Hair Restoration in Los Angeles Today
The Parsa Mohebi Hair Restoration team knows that hair loss on the scalp is not ideal no matter the age of the patient or the amount of hair loss. A healthy head of hair gives you a better self-image and increased confidence in your daily interactions with others.
Call our experienced medical team today to get the answers you want to know about FUE hair transplants. Take control of your hair loss and gain the look you desire with a California hair restoration procedure. Get in touch with Parsa Mohebi Hair Restoration today about FUE hair transplant in Los Angeles, CA.