FUE Hair Transplant Los Angeles, CA
FUE Hair Transplant in Los Angeles, CA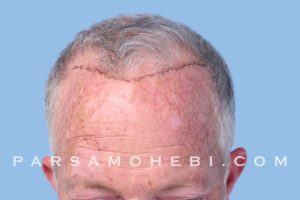 If you are experiencing hair loss on the scalp, and are not sure what to do about it, then we suggest contacting Parsa Mohebi Hair Treatment about FUE Hair Transplant in Los Angeles, CA. The care solution you need might be answered by three letters: FUE. Hair restoration can be performed on patients with varying levels of hair loss by undergoing a hair transplant procedure.
The look of balding areas on the scalp, or hair that is thinning, can have a negative impact on the confidence of a person and make them want to wear a hat to hide the appearance of their scalp. Thankfully, there are medically advanced hair restoration techniques available to rejuvenate the hairline and provide a patient with a more youthful and refreshed look.
One popular hair restoration technique, that provides long-lasting results that last a lifetime, is known as Follicular Unit Extraction (FUE). The performance of FUE hair transplant is well-known for not leaving a scar in the areas of the scalp where the hair grafts are removed. Learn more about FUE below and see how it compares to another popular hair transplant method known as Follicular Unit Transplantation (FUT).
FUE vs. FUT – Hair Transplant Differences
Patients that want more information about having a hair transplant should know there are two main surgical hair restoration choices. The two hair transplant techniques are FUE and FUT. Both procedures require your surgeon to remove hair grafts from the donor area of the scalp and then implant them in the balding or thinning areas on the head. Here are the differences between these two hair transplant methods:
FUE is when the surgeon individually removes hair grafts from the donor area (usually the back and sides of the scalp) on the body. The removed hair grafts are placed in the balding area of the scalp. FUE is known as being a less invasive procedure than FUT because it does not leave a visible scar.

FUT is when the surgeon cuts a strip of skin from the scalp. The skin strip is removed so the hair transplant doctor can move the hair follicles, in their natural grouping, to the scalp sections that are thinning or balding. FUT will leave a noticeable scar on the section of the scalp where the strip of skin was removed which means it can be obvious to others that a hair transplant was performed.
If you want more information about the differences between FUE and FUT hair transplants, our team at Parsa Mohebi Hair Restoration is ready to answer your questions.
Common Causes of Hair Loss
Hair loss can be caused by a multitude of different issues. For many people, it's a hereditary condition that was passed down from their parents and so on. For others, their hair loss is due to underlying conditions, stress, effects from medicines, steroids, and more. Hair loss also goes through different stages which show itself in different forms. For some people, this will be pattern baldness that may begin with a small amount of hair loss progressing its way through more parts of the head. Other people as they get older may also see their hair thinning. 
If you are concerned about your hair loss and wish to fix this issue, then consulting with a doctor who performs hair transplants is beneficial. Your doctor from Parsa Mohebi Hair Restoration can fill you in more on why you are suffering from hair loss and let you know if you are eligible for a Los Angeles, CA FUE hair transplant. Contact us today to get your treatment started with our experienced and skilled doctors.
How To Help Prevent Hair Loss
Hair thinning and loss can be minor, moderate, or severe. Hair thinning happens most often in a gradual way overtime, which means that it's harder to identify the causes. For some, hair thinning is due to genetics or lifestyle habits, or both. There are medical conditions that have contributed to thinning hair and loss. Normally, people may shed up to a hundred hairs daily. Those who shed more than this on a regular basis may want to implement these strategies in reducing hair thinning and loss: 
Stop over-treating your hair, such as perms, color, and relaxers.

Avoid using products that are harsh on the hair, like extreme hair sprays, gells, and temporary color. 

When wearing your hair up, do so in a way that doesn't pull tightly on the hair. 

Get more minerals, folic acid, and iron in your diet. These will assist in keeping the hair follicles producing naturally. 

Monitor uncontrolled stress. We can't prevent stress altogether, as that is just a component of life. But what we can do is make an effort to reduce or eliminate stressor that we do have control over. 
These above approaches can help reduce symptoms associated with hair thinning and loss, but for those with a hereditary influence, it may not prevent loss entirely. That is when you should consider contacting a reputable hair transplant clinic such as ourselves for assistance and treatment options. Reasons you may have hair thinning are listed below:
Immune system deficiency

Recently having a baby

Halting birth control pills

Treatment for autoimmune disease

Skin infection or disorder

Trichotillomania

Lost more than 20 pounds in short time

Going through hormonal changes
Approaches you may have already tried to prevent hair loss and thinning include scalp massages, anti-thinning shampoos, essential oils, folic acid supplements, multivitamins, Biotin, omega-6 and omega-3 fatty acids, spironolactone, minoxidil, corticosteroids, finasteride, and laser therapy. While these may help to some degree, it's important to remember that hair transplantation may ultimately be the treatment plan that yields the best results. 
Who Can Receive A FUE Hair Transplant?
Not everyone is able to receive a FUE hair transplant. Different details involving age, amount of hair loss, and other factors will all be involved in determining eligibility. For most people who have not yet aged to their mid 20's, a FUE hair transplant may not be beneficial as people in that age range generally have only begun to see small amounts of hair loss. 
However, if the hair loss is significant, then your doctor may advise on this treatment. For other people who are over their mid 60's, it could be possible that their hair is too thin to make this type of treatment worthwhile. This type of procedure is generally performed for people who fall between those 2 age ranges and who still have enough hair to pull from in order for it to make a lasting difference on other parts of their scalp. Consult with a doctor from Parsa Mohebi Hair Restoration today to learn more about whether or not it is advised for you to get a Los Angeles, CA FUE hair transplant.
Can Women Receive This Type of Treatment?
Many people think of men when it comes to hair treatment and baldness, but numerous women suffer from the same problems and are looking at their options for restoring their hair. A FUE hair transplant is definitely something that women can consider as women receive this treatment as well. Women typically have a thick amount of hair on the side of their scalps which can be used to fill in other areas. 
If you are a woman and are considering a FUE hair transplant, then consult with a doctor from our restoration service today to learn more about this procedure and if you meet the criteria. Your confidence, aesthetics, and overall positivity could all be increased with this procedure performed by our experienced and skilled hair transplant surgeons.
Contact Parsa Mohebi Hair Restoration
The Parsa Mohebi Hair Restoration team knows that hair loss on the scalp is not ideal no matter the age of the patient or the amount of hair loss. A healthy head of hair gives you a better self-image and increased confidence in your daily interactions with others. Call our experienced medical team now to get the answers you want to know about FUE hair transplants. 
Take control of your hair loss and gain the look you desire with a California hair restoration procedure. Get in touch with Parsa Mohebi Hair Restoration today about FUE hair transplant in Los Angeles, California.
FUE Hair Transplant Los Angeles, CA
Hair plays a critical role in our lives and that is why many want to learn about the FUE hair transplant in Los Angeles, CA, and what it can do for them. Hair thinning and baldness can affect the look and in in turn the self esteem of the person to a large extent. 
For many people, this means that they want a solution to the problem that isn't going to be adding up for the rest of their lives. However, there are many people out there that many fear what happens with a hair transplant. There are many myths out there and not everyone knows the truth. 
Common Myths About Hair Transplants 
With so many myths out there it can be hard to know the truth. If you've heard some of these myths below, we have the facts about them. 
Myth 1: Doctors Use Hair From Someone Else 
This isn't true at all. No other person's hair is used during the procedure. The surgeon and his team use your hair follicles and shift them from one part of the head to the bald part of the area that needs repair. This means you won't have to worry about anything other than healing, unlike other types of transplants in the body. There is no medication you have to take to make sure the body doesn't reject it, as it is already part of you. 
Myth 2: The Process is Extremely Painful 
It would be if you weren't under the influence of anesthesia. You won't feel the pain and you'll be fully awake in most cases. There might be some discomfort due to the needle pricks but that is normal and you don't have to worry about it. You can also return home the same day. You might have some pain after the procedure takes place but you don't have to stay at a hospital. 
Myth 3: The Look Won't be Natural 
If you undergo the FUE transplant under the supervision of a good and experienced surgeon, then you don't have to worry about your looks. You can rest assured that your hair will look as natural as it would have if you didn't need the procedure. A doctor will check the location of the follicles and the angle of the hair and graft it in a way that looks natural. You'll be able to wash, cut, and style your hair the way you want to after the healing process. It takes time and it won't look natural during the first part of healing but it will. 
Myth 4: The Results are Temporary 
No, they aren't. As long as the transplanted follicles don't fall from the site, your hair will keep growing. This means it is important not to scratch or rub your head before you are done healing. Hair follicles are capable of maintaining their nature even if they are moved from one place to another.
What To Expect During A Hair Loss Transplant 
A hair loss procedure may last from four to nine hours depending on specific factors related to the patient and the specific procedure. Our professional hair restoration team will make sure that you are comfortable by applying a local anesthetic to numb the scalp. 
The hair loss surgeon will remove a portion of skin and hair from the back of the head during the hair transplant procedure. The surgeon will remove either a narrow band of hair or single hairs attached to their roots. These hairs are placed under a microscope and transplanted into a new location. 
Care instructions will help your body heal after the procedure. One thing you want to avoid after any hair transplant is the risk for infection. Adhering to the care instructions will help you prevent scalp infections after a hair transplant procedure. 
It is important for patients to take any pain medication prescribed to them to alleviate symptoms associated with pain. Cold compresses can reduce physical swelling and reduce pain associated with the hair loss procedure. 
A patient should sleep with his or her head elevated to protect the scalp during the healing process. Also, all patients should avoid all intense physical activity such as running, hiking, and biking. These practices will help the patient properly heal after a hair loss transplant procedure. 
Swelling is a common symptom associated with hair loss transplant procedures. Intense swelling may occur immediately after the hair loss transplant and may continue for several days. Many patients worry about swelling but it is a normal part of the healing process. Swelling will begin at the scalp and move to the top of the forehead before lessening over time. 
Most patients who undergo hair loss transplants take five days off of work to fully recover from the hair loss transplant procedure. Shedding and regrowth will likely occur after your procedure. This may occur during the first months after your har loss transplant procedure. 
More than one procedure may be necessary to achieve the transplant results anticipated by the patient. Platelet-rich plasma treatments may improve hair growth after a hair loss transplant. All patients should consult with their hair transplant surgeon before attempting to undergo another procedure to reduce hair loss. 
Stem cells are able to increase hair growth and this is a good non-surgical option for patients seeking post-transplant hair alterations. This procedure also does not cause scarring and all hair loss transplant patients should be aware of the scarring risks associated with hair loss transplants. Scarring may range from minor to more prominent depending on the specific patient's physiology and other variables.