Meet Dr. Gujrati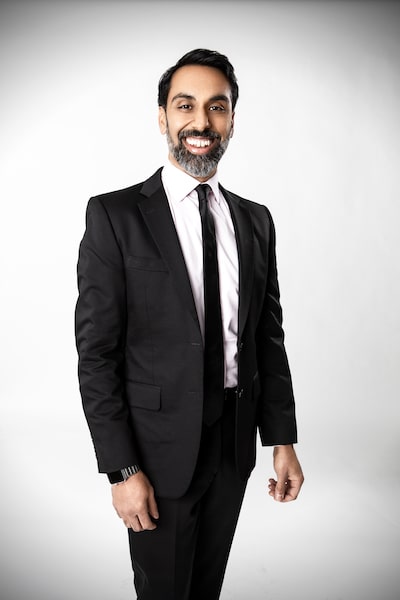 Dr. Manu Gujrati, known as Dr. G, is a hair restoration specialist, based in San Francisco, known for his achievements in providing natural and long-lasting hair transplant results to patients all across Northern California. Dr. G is recognized by both his peers and his patients for his personal approach to each person that visits his office. During the consultation process, he takes the time to listen to his patients to better understand their reasons for wanting a hair transplant and learns more about their desired final results. His artistic eye and surgical skills combine to create a hairline that is long lasting as well as natural in appearance. In addition to providing hair transplant results that produce a fuller hairline with greater density, Dr. G forms relationships with his patients that last long past the actual San Francisco hair restoration procedure. He enjoys staying in touch with his patients and watching their self-image increase along with the positive changes in their careers and personal lives.
Dr. G's Training
Dr. G conducted his initial medical schooling at Northwestern University Feinberg School of Medicine and Northwestern University itself. Dr. G then continued his studies with an internship in general surgery and a residency in otolaryngology at the University of Kentucky – Chandler Medical Center. This was followed by a Fellowship in hair restoration surgery at the Alabama Hair Institute.
Dr. G went on to become a Fellow of the International Society of Hair Restoration Surgery. He earned his license from the State of California Board of Medical Examiners and is also a Diplomate of the National Board of Medical Examiners. In addition, he has received numerous honors and awards for his research and education efforts and has been involved with scientific hair restoration meetings internationally.
He currently owns the US trademark for HAIRSCORE: Hair Density classification method and has a US patent pending for Patient Care Reconnaissance System.
Professional Affiliations
International Society of Hair Restoration
American Medical Association
American Board of Facial Plastic and Reconstructive Surgery
American Academy of Otolaryngology/Head and Neck Surgery
Hair Restoration Philosophy
When it comes to San Francisco hair restoration results, Dr. G believes that the best results are those that enrich the life of a patient and give the person the increase in self-esteem and confidence they have always desired. According to Dr. G, a hair transplant is more than the physical act of designing and creating a full, healthy hairline. It is the opportunity to give a person the appearance they crave and also help a patient obtain the look they have always imagined but never thought was possible. Dr. G is proud to provide life-changing San Francisco hair transplant results in the Northern California office of Parsa Mohebi Hair Restoration.
View Dr. Gujrati's CV
Watch Dr. G's own hair transplant journey here.