Hair Miniaturization Explained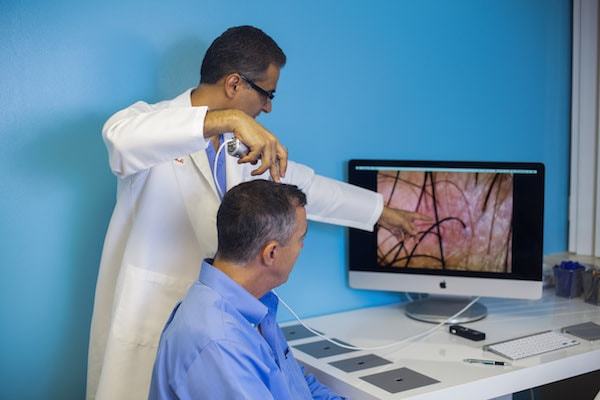 The process of balding is one that impacts both male and female patients. Hair loss can be caused by a number of factors including genetics, a medical condition or some form of trauma or injury to the scalp. In general, typical male and female patterned baldness usually starts with the thinning of hair shafts on the scalp. The ongoing decrease in the size of individual hair shafts is known as "miniaturization". The miniaturization of scalp hair during male or female patterned hair loss is usually followed by obvious areas of baldness on the head when scalp hair becomes invisible to the naked eye.
While microscopic evaluation of the hair and the scalp is a great help when it comes to determining the miniaturization rate of human hair, the beginning of balding in patients is normally not too obvious to the average person unless significant miniaturization is present. In general, baldness is not apparent on a patient until more than 70% of the hair has become miniaturized. Because of this fact, a miniaturization study is a vital first step in the evaluation of the amount of hair loss suffered by a patient. In addition, it could be a great predictor for future patterns and classes of balding. Patients in the active phase of hair loss usually show significant hair miniaturization.
During a miniaturization study conducted by the medical team at Parsa Mohebi Hair Restoration, we map the scalp of the patient with a microscope before starting them on a specific medical treatment or planning to perform a hair transplant procedure.
Younger patients who show significant miniaturization of the hair on the scalp are more likely to lose their vulnerable hair following their hair transplant surgery. The reason they are more likely to lose their vulnerable hair is the stress suffered by the hair follicles during the surgical procedure. This hair loss is known as shock loss and this type of loss happens less frequently in patients who have a much smaller amount of hair miniaturization as well as patients who have end-stage balding with no preexisting visible hair in the transplanted area.
Our experienced team of hair restoration surgeons regularly performs a miniaturization study while our patients are on a medical hair loss treatment to gauge the effectiveness of the treatment plan. Patients who are balding, and are considering their hair transplant options, should also have their hair mapped for miniaturization in order to determine the state of their current hair loss and to also predict the future pattern of hair loss. Combined with a family history of baldness, the miniaturization study is one of the most reliable methods to determine the future pattern of hair loss that can be expected on the scalp of a patient. The study also helps us to formulate a master plan including both surgical Los Angeles hair transplant surgery and San Francisco hair restoration procedures to cover balding areas as well as medications that work to prevent balding on anticipated balding areas.
Normal and Abnormal Miniaturization Study
Patients should all have a microscopic examination to determine both the quality and number of hair and also the miniaturization rate in different areas of the scalp.
It is important to note that having up to 20% miniaturized hair in any given area could be could be considered to be normal in most individuals and can easily be explained by the recycling of hair follicles. Every scalp hair spends most of its time in the growth phase and then a smaller portion of time in the resting phase.  These are the main phases in human scalp hair growth:
Growth phase (Anagen) which lasts between 1 to 6 years
Resting phase (Telogen) which lasts around 4 to 6 weeks
When patients lose a hair as it enters the telogen phase, the hair follicle goes to sleep and the hair shaft falls. Patients should not be worried as this is always followed by another hair growing from the same follicle.  The newly growing hair is usually represented by a very small hair. This small hair should not be mistaken for miniaturized hair due to the balding process. Patients with hair miniaturization of over 20% in any area of the scalp are more likely to lose a greater amount of hair or become completely bald in those areas. Larger miniaturization numbers can represent more active hair loss as well as further balding in the future. Patients who have significant miniaturization could take prescription medication given to them by the hair transplant surgeon to prevent or slow down the process of the hair loss.  These patients should be evaluated on a regular basis, as well as undergo repeated miniaturization studies, to evaluate their response to the medication and to adjust the course of treatment if necessary.