What is the best age to get a hair transplant?
Hair loss can be a devastating condition that does not discriminate against age. According to the American Hair Loss Association, two-thirds of men experience a significant degree of hair loss by the age of 50. However, each individual (men & women) experiences hair loss differently and requires a personal prognosis that addresses their specific needs. That being said, people want to know, is there a magic age or number to address the issue of hair loss? This article will explain the contributing factors and information you need to know the answer the question, "when should I get a hair transplant?"
What is the average age for a hair transplant?
According to the ISHRS 2017 practice consensus (a study that gathered information from hundreds of hair restoration practitioners), the most common hair transplant patients were men aged 30-39 (32%). That being said, it is important to note that this does not mean that is the best time for everyone to get a hair transplant. Many men start losing hair in their early 20s, while some have no hair loss before the age 40-50. Also, some people require a hair transplant at the earlier signs of hair loss while others wait until reaching the end stage hair loss before they try to restore their hair. These factors make the age of a hair transplant anywhere from early 20s to 80s.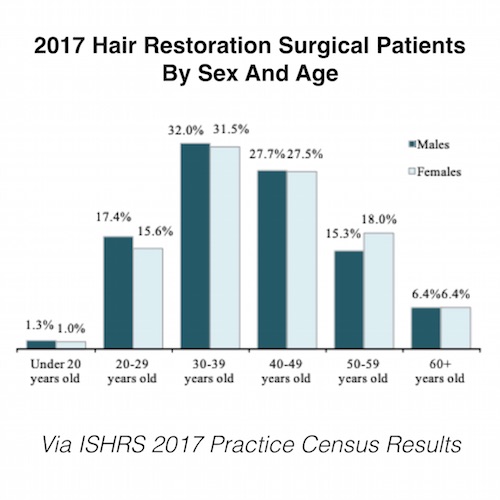 Can you be too young to get a hair transplant?
At one time, the widely-accepted theory was that you could not get a hair transplant before the age of 24. The reason was that the hair transplant surgeons had to wait until you show your full hair loss or at least show the pattern that you are heading in. Waiting for the pattern to show could have prevented an aggressive hairline planning for a patient who may not have enough supply of hair to cover a large area of baldness in the future. However, thanks to advances in technology, we don't wait too long and we are able to give a hair transplant to the patients even before the age of 20 in some cases. There are 3 reasons we don't have to wait too long before suggesting a hair transplant to a patient:
We look into the family pattern of hair loss to understand the genetic components and where it is likely for the patient to end up.
We perform a microscopic evaluation of scalp and hair (miniaturization study) that helps us determine where the patient have active hair loss. In addition to those factors, we don't have to wait until the patient loses his hair to the point that he/she shows the final pattern.
We use efficient medication to keep people from getting to the final stage of hair loss so there is no point of waiting for it to happen before planning for a hair transplant.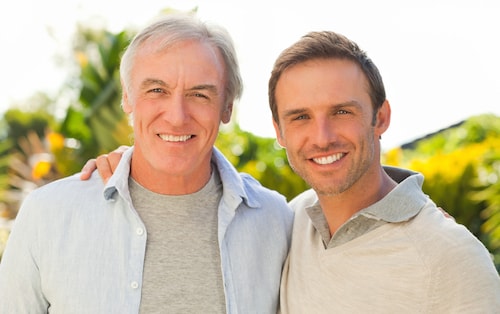 Can you be too young/old to start other hairless medications?
We have two main FDA approved medications for male patterned baldness. One could be started at any age, but the other cannot be given to adolescents since it may affect the development of the male external genitalia. For this reason, we usually start that treatment after the age of 18.
Is it possible to get a hair transplant too late?
There is no upper age limit for a hair transplant procedure. Thanks to the new non-invasive FUE techniques, a hair transplant could be done at any age as long the patient is otherwise healthy.
So, what is the best age to get a hair transplant?
The best time to get a hair transplant varies by individual. We believe that the best time for someone to get a hair transplant is when they feel their hair loss is bothering them and medical treatment is not sufficient to resolve the problem. In general, there is no age limit for hair restoration as long as the patients are evaluated and selected properly for this procedure. Psychology studies of hair loss and hair transplant show that losing hair at an early age can be a major source of anxiety for young adults. This may affect their social and professional lives of young men. That is why we consider offering hair transplant at an earlier age.
What factors should be considered when determining the best age for someone to get a hair transplant?
We consider the family pattern that often tells us how hair loss will evolve over time. We also consider treating hair loss with medications early on and the response of the patients determines at what age we should consider a hair transplant. Many patients respond well to medication when it is started at an early stage of hair loss. That means they can successfully postpone the time they need to get a hair transplant. The other factors to be considered are the patient's awareness of the problem, social life, and career that makes a big difference in the age and the urgency of a hair transplant procedure.