FUE Hair Transplant Beverly Hills, CA
FUE Hair Transplant in Beverly Hills, CA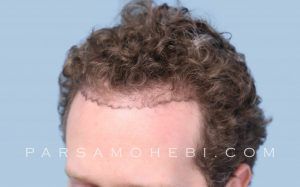 If hair loss is happening on your scalp, and you don't feel like you have any help, you can treat the issue by reaching out to an experienced FUE hair transplant surgeon Beverly Hills, CA at Parsa Mohebi Hair Restoration.
The appearance of thinning hair, or bald spots on the scalp, can impact the self-image of a person and lessen their confidence. Hair loss can also make a person look older and make them not want to interact with others in-person. Thankfully, there are cutting-edge hair restoration techniques available to refresh the hairline and give a patient a more youthful look in one surgical procedure.
One of the most popular hair restoration methods, that provides results that last a lifetime, is Follicular Unit Extraction (FUE) This hair transplant method is praised for its efficiency as it leaves no scar where the hair grafts are removed. We have listed some of the benefits of FUE below so you can learn more about this industry-leading procedure and the type of results you can expect to see after the procedure.
FUE vs. FUT – Learn the Difference
When it is time to consider having a hair transplant, there are two main surgical hair restoration choices and they include FUE and FUT (Follicular Unit Transplantation). Both of these procedures involve your surgeon moving hair grafts from the donor area of the scalp and transplanting them to the balding areas on the head.  There are some differences to be aware of when choosing a Beverly Hills hair transplant method:
In FUE, the surgeon removes the hair grafts individually from the donor area on the body (usually the back and sides of the scalp) to the balding area of the scalp. FUE is considered to be less of an invasive procedure than FUT so many patients choose this technique since it does not leave a visible scar.
In FUT, the surgeon cuts a strip of skin from the scalp so the hair follicles can be moved, in their natural grouping, to the areas of the scalp that are thinning or balding. The downside to FUT is that there will be a noticeable scar in the scalp section where the strip of skin was removed so it can be obvious to others that a hair transplant was performed.
In order to make an informed decision about FUE or FUT hair transplant in Beverly Hills, CA, you should consult with the experienced hair transplant team at Parsa Mohebi Hair Restoration.
Contact Parsa Mohebi Hair Restoration in Beverly Hills Today
At Parsa Mohebi Hair Restoration, we know that a full head of hair can make a difference in your self-confidence. A healthy head of hair creates the impression of a person being youthful and strong. Many patients that are losing their hair want to regain the positive self-image provided by a healthy head of hair.
Contact our experienced medical team today to get more information about FUE hair transplants. The first step in the hair restoration process is making a call to our Beverly Hills medical office. Get in touch with Parsa Mohebi Hair Restoration today about FUE hair transplant in Beverly Hills, CA.