Scalp Micropigmentation
Scalp Micropigmentation (SMP), also known as trichopigmentation, is a revolutionary new cosmetic procedure that is performed at Parsa Mohebi Hair Restoration to improve the aesthetic appearance of a patient's scalp using dermal pigments. SMP is a procedure that is used to imitate the look of a closely shaved head or to blend-in with the appearance of the natural hair of the patient when the appearance of more fullness is desired. The procedure is relatively non-invasive and is usually performed without anesthesia.
Who is A Good Candidate for SMP?
Ideal candidates for SMP are people who do not have adequate hair to cover their entire balding area with the density they desire. Patients with a scalp scar that is the result of an older hair transplant method (or other procedures) can minimize the visibility of the scar as well. The most common applications of SMP are for the following groups:
Scalp Visibility after Hair Transplant: Men or women who had a hair transplant in the past but still have some scalp visibility due to thinner hair and a large area of baldness. This condition is known as donor/recipient mismatch. Donor/recipient mismatch is when the amount or volume of donor hair a patient has cannot provide adequate coverage for the entire balding area.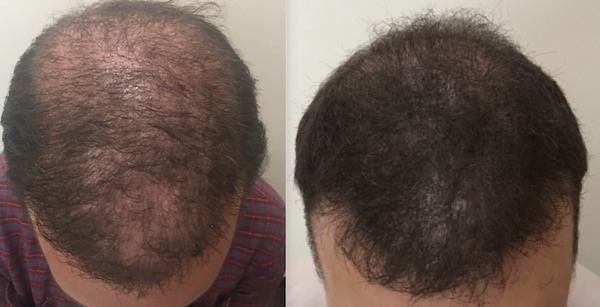 2. Female Hair Loss: Women who have typical female patterned baldness, and are not good candidates for a hair transplant, often lack a sufficient amount of permanent hair anywhere in the scalp that can be transplanted. Most of these women are dependent on microfibers like Toppik or a hair system. SMP can minimize the contrast between their hair and scalp and create the illusion of fullness.

3. Shaved Head: Men with male patterned baldness who decide to shave their head and don't want the typical balding horseshoe pattern to be visible. SMP can create the appearance of a full head of hair in these men. SMP can also create the appearance of short hair stubbles that mimic a full head of hair.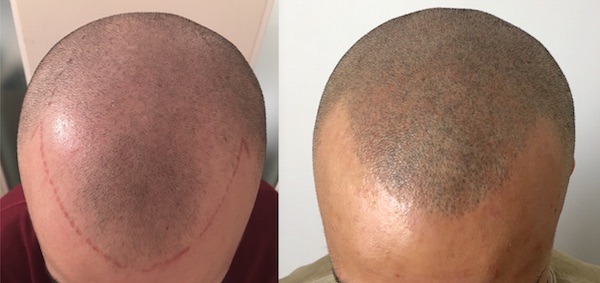 4. Scalp Scar: Men or women with scalp scars due to trauma, surgery or a previous strip hair transplant that are now planning to shave their head and want to get rid of the visibility of their existing scars.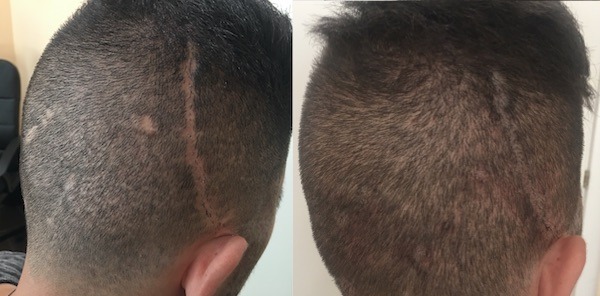 5. Other Types of Hair Loss: Anyone with any type of hair loss who wants to improve the appearance of the balding area. Examples are skin conditions such as Alopecia Capitis, Alopecia Areata in the head and face, Alopecia Cicatricial or post-radiation hair loss.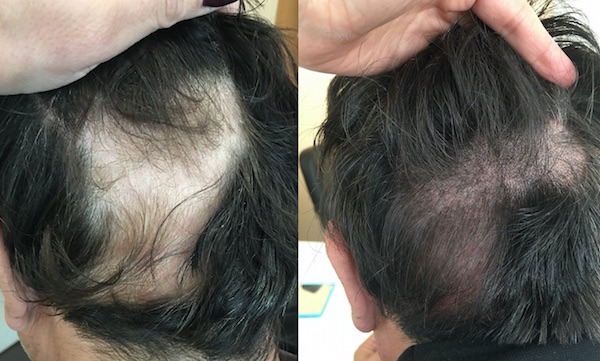 At Parsa Mohebi Hair Restoration, we use depth precision and superior artistic skills in crafting the most natural looking results for people who are bald or who have thinning hair.  SMP can create a close shaved look in patients where the patterned baldness at the front and crown is noticeable by using dermal pigments matched to the patients' hair color. The procedure can also produce the look of more hair density in patients who have thinning hair by minimizing the visibility of the scalp. This eliminates the need for microfiber products such as Toppik which, while effective in filling out the hair, are messy and easily comes off the hair and scalp.
Benefits of Scalp Micropigmentation
Here are even more benefits of Scalp Micropigmentation:
Increases both the appearance of density and the thickness of thinning hair
Simulates the look of a closely shaved head for completely bald patients
Helps conceal scars from previous scalp procedures such as donor scars in former hair transplant patients that had a procedure such as Strip Follicular Unit Transplantation (FUT)
Improves the look of hair density in men and women suffering from patterned hair loss
Effective treatment for patients suffering from conditions that hair transplant cannot be a good solution for such as Alopecia Areata, Alopecia Totalis, and Alopecia Universalis
Effective treatment for hypopigmentation that may be seen after Follicular Unit Extraction/Excision (FUE) procedures on the donor area