Am I A Candidate for Hair Transplant?
The final decision to undergo a hair transplant is one that is deeply personal and sometimes not easily reached by patients. Hair loss impacts everyone on a different level and the reasons why patients decide to have hair restoration are rarely the same. Not every person with hair loss is a candidate for a hair transplant. On this page, we will identify who is an ideal candidate for a hair transplant and when other options should be considered such as medical treatments or cosmetic products.
No matter the reasons for wanting a hair transplant, there are advanced methods of hair restoration that can give patients the hairline they desire. Once a person decides they want to have a hair transplant, the next step is to make a consultation appointment with a board-certified and experienced hair transplant surgeon. The doctor can determine if the person is a good candidate for a hair restoration procedure after performing a thorough hair loss consultation and evaluation appointment.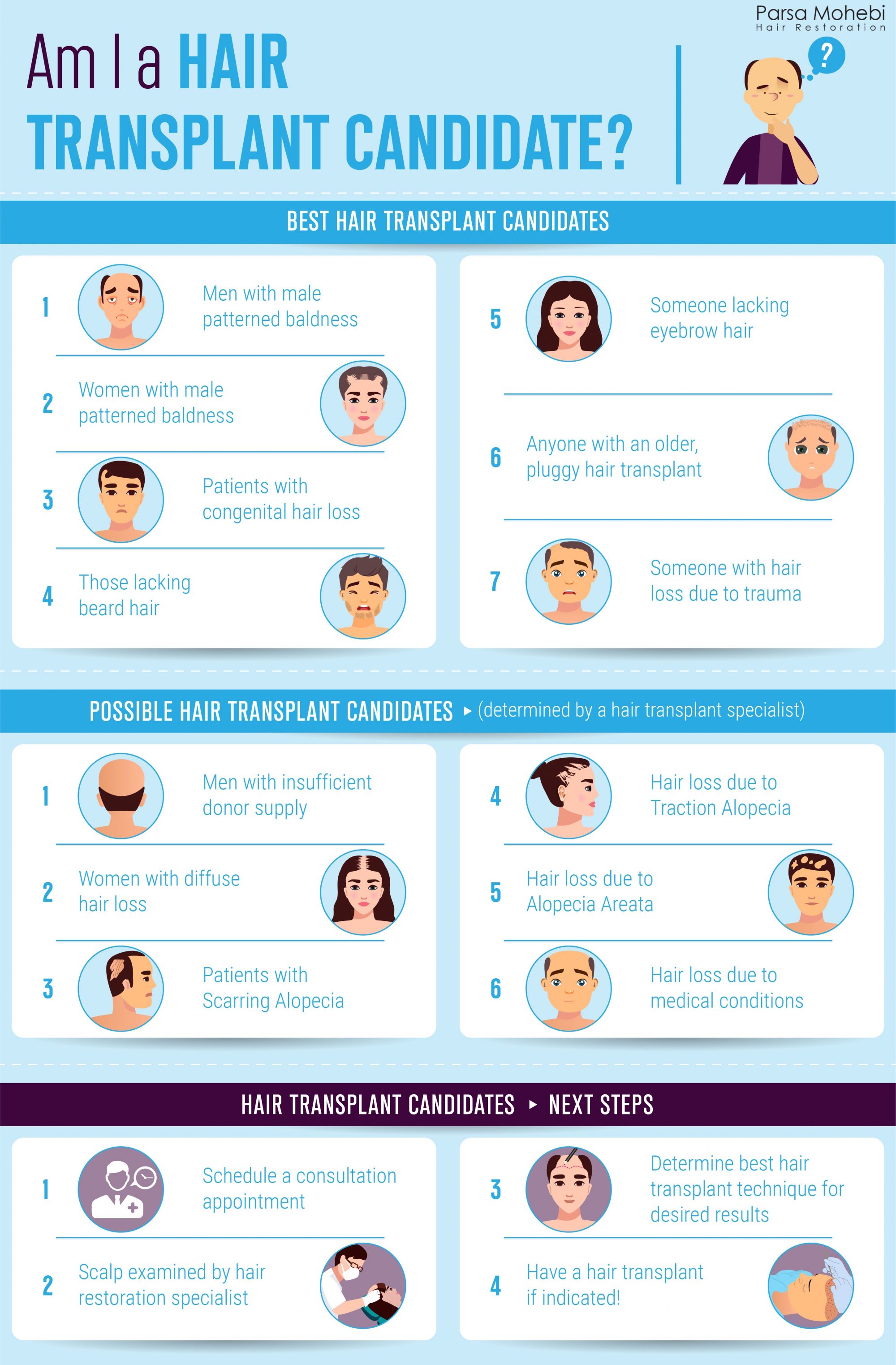 Good Hair Transplant Candidate
In general, good candidates for hair transplants include patients who are looking to make a change in the fullness and density of their hairline as well as make an improvement in their appearance to enjoy a greater self-image. The following are a list of conditions patients need to meet to have a hair transplant:
Typical male pattern baldness(MPB) in both men or women means the person loses hair in the front, top or crown with a preserved area on the back and sides of the scalp
High hairline in a woman that makes her face look less proportional or less feminine
Hair loss secondary to burns or trauma
Looking to make a change to their hairline
Lack of facial hair or missing part of it
Loss of eyebrow or eyelash hair
Scarring in hair bearing areas from trauma or medical procedures such as neurosurgical scars and facelifts
Want to improve the unnatural appearance of older transplant results by adding density, removing and replacing old and pluggy grafts and redesigning the hairline
Who Is Not A Hair Transplant Candidate?
Most people with typical patterned baldness are candidates for a hair transplant. Here are some examples of those who are not good candidates for a hair transplant:
Men and women with Diffuse Unpatterned Alopecia (DUPA) where they have thinning hair in the front and the top of the scalp along with hair loss or significant miniaturizationin the sides and the back of the head which predict active hair loss in those areas
Women with typical female patterned hair lossbecause these patients usually have diffuse hair loss and may not have a good donor area with hair follicles that can be harvested
Patients with unrealistic expectations about the final results they can receive such as a person with extensive hair loss, and not enough donor supply, who still expects to restore a juvenile hairline
Those with extensive hair loss as they likely don't have enough hair follicles in their donor area to cover the balding area which means they have supply and demand mismatch
Those with serious, or chronic, medical conditions that are not being controlled with medications such as uncontrolled diabetes or thyroid hormonal imbalance
Patients with trichotillomania whose psychological disease is not under control will lose transplanted hair much like they have also lost their native hair
Active cicatricial alopecia sufferers whose hair follicles are destroyed by this destructive inflammatory process
Active Alopecia Areata
Patients interested in learning more about their hair restoration options are invited to contact our office to schedule a physician consultation. We can perform the Los Angeles hair transplant consultation appointment in-person or we can perform the consultation appointment online. Once a patient has the proper knowledge about their hair loss, as well as their available options, he or she can make an informed decision about the next step in their hair restoration journey. Now for those searching "Should I get a hair transplant," you might be a bit more informed.