Hair Restoration Seminar Series: San Francisco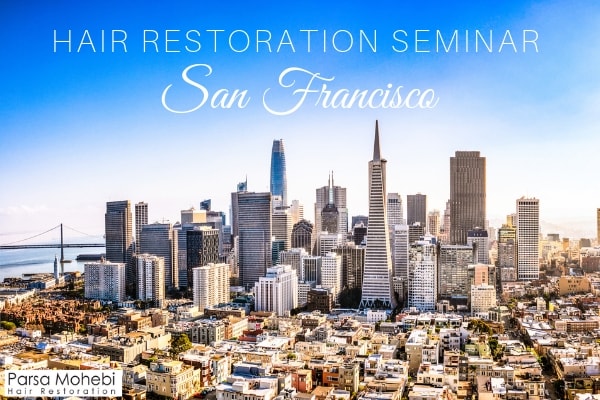 After our first successful seminar Scottsdale, AZ, we are excited to move forward to our next seminar in San Francisco, CA! The seminar will be held at 55 Francisco Street, Suite #705 San Francisco, CA 94133 on June 22, 2019 from 12 pm to 2 pm.
Seminar Summary
In line with our mission of spreading the latest information about the field of hair restoration, our seminars visit a different city across the USA every 3 months, where I present a comprehensive review of the hair restoration process. After attending the seminar, anyone interested in undergoing a procedure will be armed with all of the knowledge to feel comfortable making a decision. I will walk everyone through a hair transplant from the early stages of determining if someone is an ideal candidate for the actual surgery and what patients can expect during the recovery period.
I will also discuss the long-lasting results that can be gained by a hair transplant and how emerging technology will enable patients to enjoy results that are even more natural looking than in the past.
You will also get the rare opportunity to:
Meet Dr. Mohebi in person
Ask hair transplant questions in person during a "one on one" session with the doctor
Get an up-close look at the kind of results you can expect from Dr. Mohebi
This is also a great chance to meet Dr. Mohebi in person and ask him any questions about hair transplantation before he opens his new San Francisco Hair Restoration Office.
Hope to see you there! Email info@parsamohebi.com to reserve your seat today! (Spots limited)