Hair Restoration Seminar Series: San Diego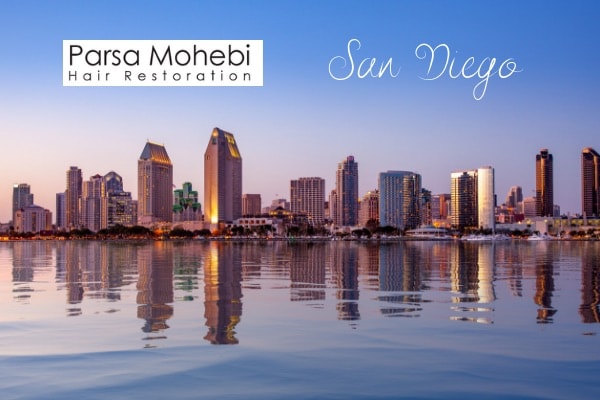 After our first successful seminars in Scottsdale, AZ and San Francisco, CA we are excited to move forward to our next seminar in San Diego, CA! The seminar will be held at Manchester Grand Hyatt San Diego on September 21st between 12:00 pm to 2:00 pm.
Seminar Summary
In line with our mission of spreading the latest information about the field of hair restoration, our seminars visit a different city across the USA every 3 months, where I present a comprehensive review of the hair restoration process. After attending the seminar, anyone interested in undergoing a procedure will be armed with all of the knowledge to feel comfortable making a decision. I will walk everyone through a hair transplant from the early stages of determining if someone is an ideal candidate for the actual surgery and what patients can expect during the recovery period.
I will also discuss the long-lasting results that can be gained by a hair transplant and how emerging technology will enable patients to enjoy results that are even more natural-looking than in the past.
Explore Real Results
Every patient experiences hair loss in a unique way. No matter your gender or type of hair loss, we are confident that your options for restoring your hair are more advanced than you think! Many patients often feel that their hair loss situation is beyond help. We want to shed a light on just how far modern hair restoration techniques have come, and show prospective patients what is possible from the results our previous patients have experienced. Explore real results from real patients with Dr. Mohebi and find out what made their hair restoration work best. To see one patient's hair loss journey in a blog post, click here.
Hair Transplant FAQ
Parsa Mohebi Hair Restoration is all about educating patients. With so many miracle hair loss products and cures on the market, how do you know what to believe? This seminar provides an amazing opportunity for patients to ask one of the world's leading experts anything they want about hair restoration. From medications to procedures, Dr. Mohebi has studied it all, and is opening up his wealth of knowledge to you! Before coming to the seminar, we suggest you visit our hair transplant FAQ page and explore the most commonly asked questions, and see if you have any that haven't yet made the list!
San Diego, don't miss out in this rare opportunity to:
Meet Dr. Mohebi in person.
Ask hair transplant questions in person during a "one on one" session with the doctor.
Get an up-close look at the kind of results you can expect from Dr. Mohebi.
Get a copy of Dr. Mohebi's Book "Modern Hair Restoration – 3rd Edition"
Location Details:
Date: Saturday, September 21st
Time: 12:00 pm to 2:00 pm
Address: Manchester Grand Hyatt San Diego
1 Market Place, San Diego, CA 92101
Meeting Room: Bankers Hill in Seaport Tower on 3rd Floor
RSVP: By Friday, September 20th
Phone: 818.788.8363
Email: info@parsamohebi.com
Hope to see you there!