African American FUE – How To Frame the Face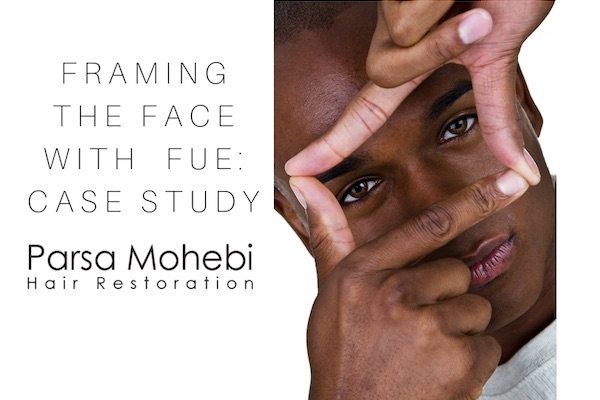 Contrary to popular belief, hair transplants are not only for those who are experiencing active hair loss. Many men (and sometimes women, too) genetically have hairlines that are further receded than normal. Others may have lost hair, but will not continue to. Although their hairlines may not be actively receding, having a high hairline can cause them to feel insecure. For these patients, a hair transplant may be the only way to achieve self-esteem through getting the hairline they've always wanted.
Case Study: Framing the Face for an African-American Patient
In this case, the patient did not have any family pattern of hair loss. However, you can see in the video his hairline was limited in the corners and temporal points. His microscopic evaluation also showed no evidence of active hair loss. In cases like this, we can be more aggressive and give the patient a perfect, straight hairline that he wants and still give him a natural-looking hairline. We used 1600 FUE grafts to restore the corners and temporal points that were flattened, giving him the natural-looking, perfect result he wanted.
There are a couple of important factors to consider when performing an FUE on an African-American male patient:
Hairline Design – It is important to consider the difference between the natural hairlines of African-American males vs. white males or other ethnicities with straighter hair when designing the hairline. African-American males can have a very straight hairline, as many can naturally have this hairline.
FUE Difficulty – African-American hair extraction is one of the most difficult extractions in FUE because of their curly hair. It is important that the doctor understands curly hair and is able to follow the angle of the hair follicle. Watch as Dr. Mohebi demonstrates in the video above.
If you have a receded hairline due to genetics, there is hope! You don't have to accept the hairline that you have. With today's innovations in hair transplant technology and techniques, you can achieve the hairline of your dreams, no matter what race or ethnicity you are. Schedule a consultation today to discuss your hair restoration options.