Soccer Team Coach, Jürgen Klinsmann's Hair Loss
Jürgen Klinsmann is a former soccer star that helped bring his German team to a third place finish in the 1990 FIFA World Cup and had the honor of being listed as one of the 125 Greatest Living Football Players, according to FIFA. Acclaimed for his striking ability, he scored consistently in all major soccer tournaments throughout the early to mid nineties. After retiring as an active player, he found continued success as head coach for the German national team, and would lead them to third place in 2006's World Cup. This past summer, he led a formidable USA team for the first time.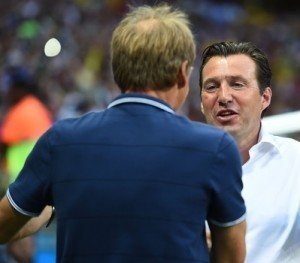 Throughout the years, Klinsmann maintained his good looks well into middle age. One thing he lacks, however, is a solid hairline, as well as a balding patch on his crown. In most pictures, Klinsmann has styled his hair in an apparent effort to disguise his receding hairline and balding crown; however, it has become more noticeable in recent years. One would think that Klinsmann would be a great candidate for a hair transplant procedure, as evidenced by the quality and thickness of his existing hair. Why do you think Jurgen Klinsmann hasn't received a hair transplant procedure?