Parsa Mohebi Hair Restoration Opening in San Francisco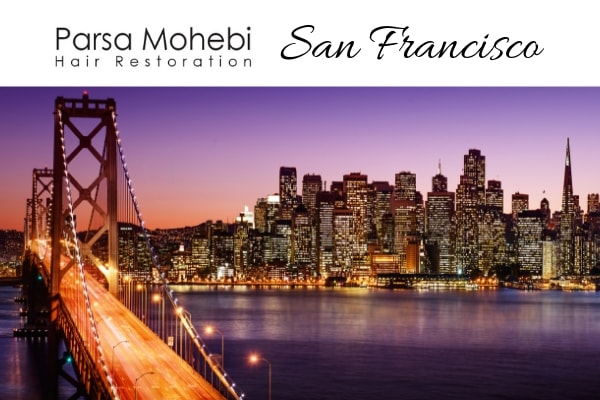 We are extremely excited to announce that Parsa Mohebi Hair Restoration will be opening a new practice location in San Francisco, California! In an effort to provide as many people as possible the very best hair restoration services, we are planning to open our San Francisco hair transplant facility in June 2019 – just in time to get a perfect hairline for the summer.
Hair Transplant San Francisco
With the growing demand for state-of-the-art hair transplant services, we believe there is no better time to expand. Especially to the wonderful city of San Francisco, where we believe we can help a lot of people achieve the look of their dreams. Whether you're a man, woman, work in Silicon Valley, or live in the heart of the city, you will be able to get the same world-class treatments we currently offer at our main offices in Los Angeles without having to travel.
Here is a list of the procedures the new office will have:
FUE – Follicular Unit Extraction (FUE) hair transplant in Beverly Hills is a hair transplant method that individually harvests hair grafts from the donor area of the scalp. This method of harvesting hair follicles allows the grafts to be removed without leaving a linear scalp scar.
FUT – Follicular unit transplantation is the process of transplanting units of hair in their natural grouping. It has been known as the gold standard in hair restoration due in large part to its success in the preservation of the hair follicles during the harvesting process.
Celebrity Hair Transplant™ by Dr. Parsa Mohebi – a limited FUE transplant procedure that has been rising in popularity among celebrities who wish to keep their hair transplant anonymous. This minor surgery is an outpatient procedure with minimal post-surgical down time and little to no detectability. This novel hair restoration technique was pioneered and perfected by Dr. Parsa Mohebi.
Power Hairline® – more and more patients are realizing that they don't need to be fully bald to experience the benefits of today's hair transplant technology. In fact, patients that come in with receding hairlines generally tend to see some of the best results, which we refer to as the Power Hairline®.
Beard to Scalp Transplant – Extracting hair from a beard or facial hair extraction can give us a generous source of quality hair that could be used to restore scalp hair.
Female Hairline Lowering – Female hairline lowering can be accomplished easily thanks to FUE or FUT hair transplant. Many women have a high hairline due to genetics, male patterned hair loss or other surgical procedures. A hair transplant is an effective way to permanently reshape or reposition a female hairline from a masculine, or receded one, to a more feminine and attractive hairline.
Eyebrow Transplant -An Eyebrow hair transplant is a cosmetic procedure that restores eyebrow hair for men and women.
And many more!
What to expect from a consultation
Here's what you can expect from a consultation:
Obtaining Your Medical and Hair Related History
The doctor will review your medical history and discuss with you the impact hair loss has had on your life, as the first step in determining your eligibility for a hair transplant and other hair loss treatments. He will also discuss your expectations.
Physical Exam
Next, the doctor will physically evaluate your hair loss situation, based on your hair loss pattern and how you style your hair. Part of this step is to perform a microscopic evaluation, which is a critical test that lets the doctor determine if you have healthy donor hair and proper recipient skin that could allow for full growth of your hair.
Create a Master Plan
Finally, based on your medical history and physical evaluation, the doctor will determine the best overall plan for you to achieve the best results possible. This plan not only includes the surgical procedure but also considers possible medications and even styling and cosmetic products that will give you the best result.
Schedule a Consultation at our San Francisco Office
Are you ready to take control of your appearance? Schedule in advance for a consultation at our San Francisco hair transplant office today.
San Francisco, see you soon!