Parsa Mohebi Hair Restoration Expands to New Los Angeles Office
Parsa Mohebi Hair Restoration continues to welcome patients to our newly expanded Los Angeles hair restoration office. The move to our new facility in Woodlands Hills was the result of wanting to more effectively address the needs of patients contacting our office to meet with Dr. Mohebi and his team regarding hair transplant surgery and other hair restoration solutions. Let's take a look at our new facility and also tell you how you can visit us at our new Los Angeles hair transplant office.
Parsa Mohebi Hair Restoration – Our New Home
We talked about it in the introduction to this article but let's show it to you! Here is our new office: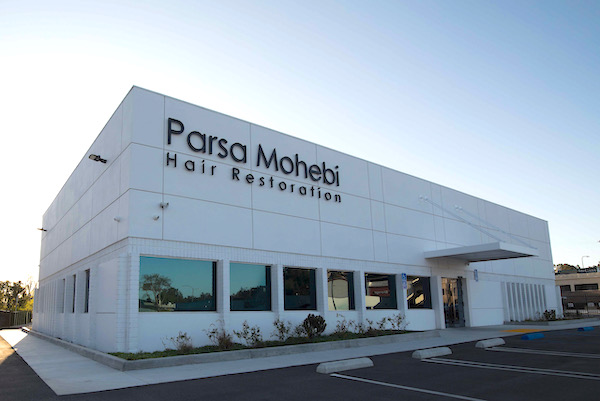 Our state-of-the-art medical facility is located in Woodland Hills, California. Its convenient location allows us to serve patients throughout the greater Los Angeles area as well as the San Fernando Valley and patients in Ventura County and other cities along the Pacific Coast. In addition, we are an easy drive from Los Angeles International Airport and other airports throughout the area which makes it convenient for patients from other states and countries to visit our office.
Parsa Mohebi Hair Restoration – What Will Patients Experience?
Our team has always been committed to providing an unmatched experience when they visit our office. The doctors at Parsa Mohebi Hair Restoration are known for providing innovative treatments using state-of-the-art and industry-leading medical equipment.
Depending on the reason for the visit, you will interact with Dr. Mohebi or Dr. Pan in specific rooms. For example, the room shown below is our consultation room where patients are examined to determine if they are a viable candidate for a hair restoration procedure. The consultation appointment includes a thorough medical examination by the doctor to assess your overall health. The doctor will also scrutinize your scalp to ascertain the reason for the loss of hair on the scalp along with the current level of hair loss you are experiencing. This one-on-one appointment is also an opportunity for you to ask any questions that you have about hair loss, the hair transplant process, and other hair restoration questions. In addition, it is also your chance to voice any concerns you have about the medical treatment you are considering while also having your concerns addressed in-person by the doctor.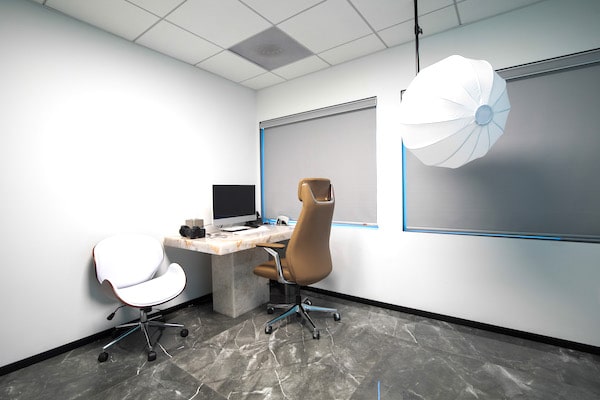 If you are visiting our medical center to have a hair transplant procedure, you will see the doctor in one of our surgical suites. The decision to undergo a hair transplant will have been reached by both you and the doctor which means a game plan will have been created so you will know exactly how many hair grafts will be transplanted during the procedure. The surgical visit will also be an easy one for you as our team keeps you informed of what is happening at all times and you can even listen to the music of your choice during the procedure.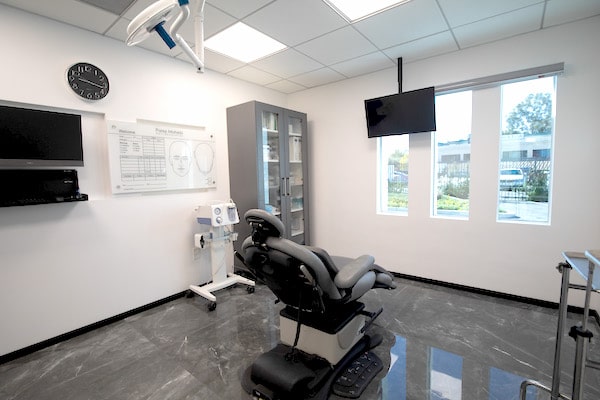 Parsa Mohebi Hair Restoration – Not Just for the Patient
While the emphasis of the patient visit is on the actual person visiting the doctor, we realize that not everyone will arrive at the office alone. Plus, we insist that patients have someone with them to drive them home or back to a hotel after their surgery. Our new office is a warm and welcoming space for the friends or family members who are there to assist after the surgery or provide moral support during the consultation appointment. They are welcome to spend time relaxing in the lobby while they work on their computer, scroll through their phone, or even read a book while waiting during the appointment.
As you can see from the photos below, our Los Angeles office is an open space that is designed to provide a relaxing atmosphere for all of our guests.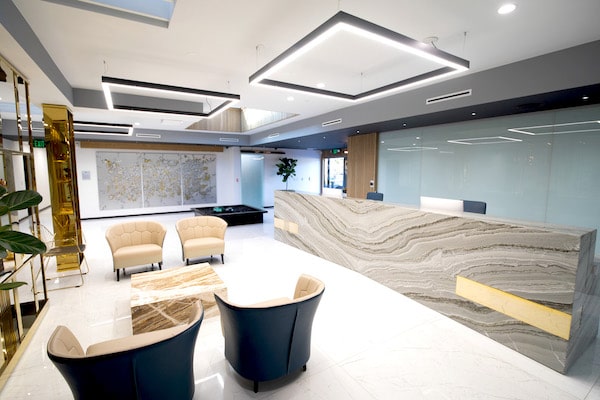 Our people are the biggest asset at Parsa Mohebi Hair Restoration. We select our team members with great care and equip them with the skills they need to provide the highest quality of care to our patients and friends. We have created a relaxing atmosphere for our dedicated staff so they can rest and perform at their best while in the office.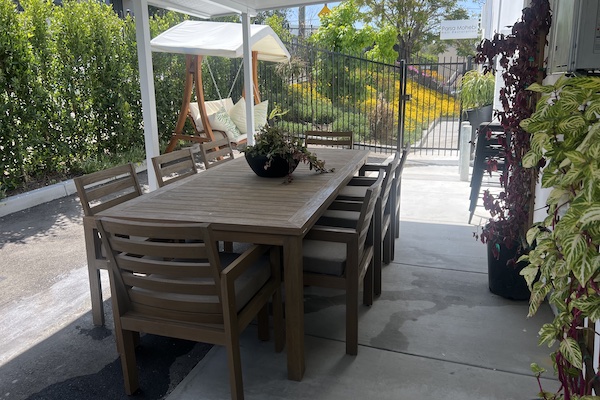 Parsa Mohebi Hair Restoration – Our Office Design Explained
The new office of Parsa Mohebi Hair Restoration was designed by Soroush Payandeh, and he has added many artistic touches that emphasize our philosophy of empowering our patients to become their best version.
A large painting in the lobby demonstrates the potential of everyone to become their own best self. The painting depicts the mythical bird of Persian mythology, "Simorgh," based on a story by Attar of Nishapur (1145-1221). The birds of the world gathered to determine their true king (as they did not have one). They decided to find the legendary Simorgh with the colorful hoopoe bird leading the others who all represented a human fault which prevented man from attaining enlightenment. The birds crossed seven valleys to find their leader. Some lost hope. Others perished from exhaustion during the journey. When the last surviving thirty birds finally reached the dwelling place of the Simorgh, all they found was a lake in which they saw their own reflection.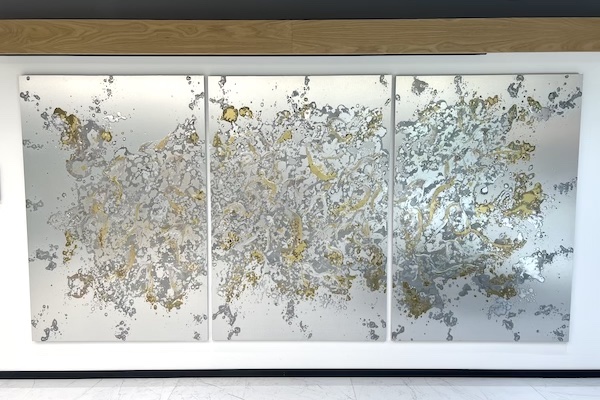 Soroush has also designed a sculpture of Dr. Mohebi and presented it to the office "From one artist to another." This bronze statue was made a few years ago and has found its new home in our Woodland Hills office.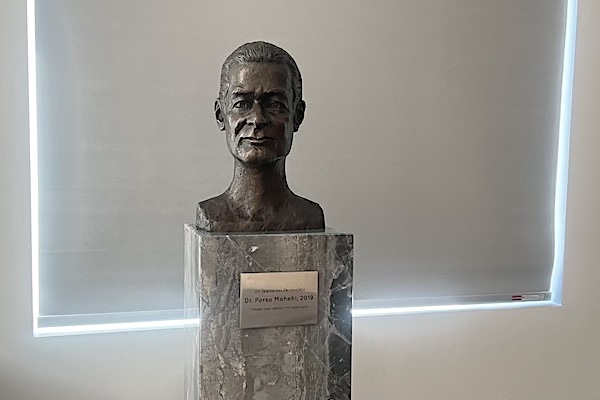 Parsa Mohebi Hair Restoration – Ready to Visit Us?
While we could certainly show some additional photos and keep describing our new facility, it is definitely best appreciated by visiting the office. Whether you already have an idea about the type of results you want to achieve by having a hair transplant or you want to meet with a doctor to learn more about the procedure, we invite you to contact us here.
When you schedule an appointment with Parsa Mohebi Hair Restoration, our goal is to take the mystery out of having a hair transplant. One aspect of removing the mystery is making sure our patients feel welcome and valued. An impersonal meeting with a surgeon in a large office filled with a sizeable number of doctors can be intimidating and also make a person feel uncomfortable or that they are being treated like a number. Our Los Angeles office is led by Dr. Parsa Mohebi who, along with Dr. Michael Pan, delivers a personal touch to each person they meet no matter where the person is on their hair restoration journey.
It's a new age at Parsa Mohebi Hair Restoration and we look forward to seeing you soon.