Hair Transplant Surgeon Dr. Parsa Mohebi Introduces a Complete Guide to Modern Hair Restoration
Dr. Parsa Mohebi, founder of Parsa Mohebi Hair Restoration presents his new book, "Modern Hair Restoration: A Complete Hair Loss Guide for Men and Women." 
Los Angeles, CA (PRWEB) November 26, 2013
Dr. Parsa Mohebi, founder of Parsa Mohebi Hair Restoration, inventor of the Laxometer, and the Hair Now app, introduces his new book, Modern Hair Restoration: A Complete Hair Loss Guide for Men and Women.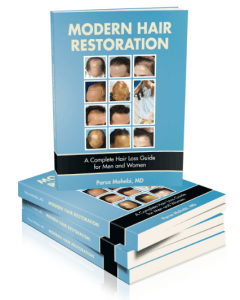 The new book, Modern Hair Restoration: A Complete Hair Loss Guide for Men and Women by Dr. Parsa Mohebi, gives a 360° overview on hair loss and hair restoration, exploring causes, psychological effects of hair loss on men and women, diagnoses and treatment options. It features an emphasis on hair restoration techniques for both men and women, including the newest methods of hair restoration and future advances in hair restoration technology. Dr. Mohebi's passion to educate his patients inspired him to start writing. "I spend a lot of time educating patients before and throughout the process of hair restoration. Even though I constantly keep my patients up to date by writing newsletters and blogs, I felt there was still a need to provide them with a comprehensive guideline for hair restoration, which can be referenced freely."
Self-image is something that every individual deals with on a day to day basis, and is so important that it can sometimes dictate our lives. Modern Hair Restoration: A Complete Hair Loss Guide for Men and Women addresses how baldness not only affects our self-image from a personal standpoint, but how it can also limit or negatively impact our self-esteem, future outlook, overall happiness, career opportunities, and even our sex lives. This book is unique because it encompasses every aspect of hair restoration by covering every type of treatment, including non-surgical options and other medical alternatives. "Hair restoration is a field that has been rapidly progressing, especially within the last few years, and because of this, even recently published books are sometimes outdated. I wanted to write a book that provides the most up-to-date modern techniques and treatments for hair transplantation so that patients will have access to this information easily and conveniently, broadening the awareness of hair restoration."
Dr. Mohebi's recognition as chairman of the FUE Research Committee, and his involvement in research and case studies make him a reputable spokesperson for hair restoration. He believes this book will educate potential hair restoration candidates who wish to further their knowledge about hair loss. Additional information and answers to the latest questions can be found on his blog at https://parsamohebi.com/blog.
About Parsa Mohebi Hair Restoration:
Parsa Mohebi Hair Restoration was established in 2008 by Dr. Parsa Mohebi. As first chairman of FUE Research Committee and creator of the several methods and techniques in modern hair restoration, Dr. Mohebi and his staff provide the most advanced techniques in hair restoration. The overall goal at Parsa Mohebi Hair Restoration is to restore patient's self-esteem through the use of quality hair restoration.