What's So Funny about Going Bald?
In an extreme case of the pot calling the kettle black, comedian Larry David has stated that professional golfer Jordan Spieth is going to be "wildly bald". Spieth is 22 years old and has already won two major tournaments this year (the Masters and the U.S. Open). David is the co-creator of "Seinfeld" and the creator and star of "Curb Your Enthusiasm".  The two men have a few things in common.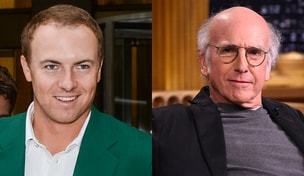 Spieth is a professional golfer. David is not only an avid golfer but he is also a big fan of professional golf. Spieth has a rapidly receding hairline. David has already lost a good portion of his hair.
While David is a big fan of Spieth's ability to handle himself on the golf course, he can't wait to see how the young golf pro handles a different kind of pressure.  In the latest issue of Golf Digest, David says he is very interested in seeing how Spieth handles seeing all of his hair in the bathtub. David then makes a prediction that Jordan Spieth has only three or four years left before he is "wildly bald".  How he reacts to the pressure of going bald is of great interest to Larry David. In fact, it sounds like Larry David can't wait for the day Jordan Spieth loses all of his hair.
How did Spieth react to the comments of Larry David? The young golfer seems to have a good attitude and took it all in stride. In fact, he remarked that David's comments were funny and there is nothing he can do about his impending hair loss.
We'd like to point out to Jordan Spieth that there is plenty he can do about his hair loss. He made $1.8 million dollars for winning the Masters and the same amount for winning the U.S. Open.  With that amount of money, Spieth can afford any hair transplant procedure he wants in the future.
Just remember Jordan…Your friends at Parsa Mohebi Hair Restoration are here for you.  Give us a call to set up your consultation appointment!