Do I Have to Shave My Head Before a Hair Transplant?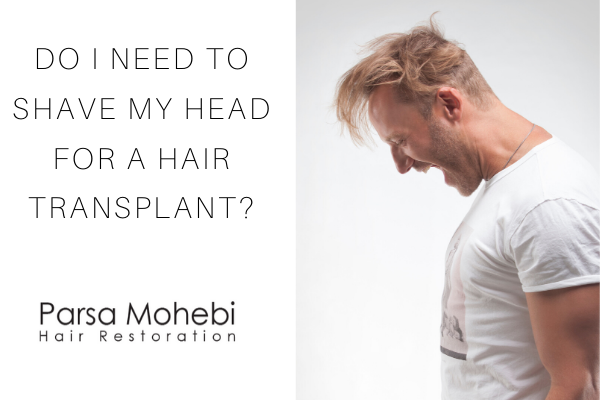 Q:
Hi Dr. Mohebi,
I am planning to undergo an FUE hair transplant to add greater density to my hair in the front and along the hairline. Do you always shave the patient's hair before a hair transplant? Is there a way it can be performed with long hair?
A:
Thanks for the question.
It is usually not mandatory to shave a patient's head before an FUE procedure. Both types of hair transplant (FUE or FUT/strip) can be performed with minimal or no shaving.
In the strip method, shaving can be limited to the area of the strip that will be removed so the patient will have long hair on both sides of the wound so it will be covered. With the FUE method, the donor shaving can be done in layers which means the longer neighboring hair can cover easily cover the shaved area. Layer shaving in FUE transplant can only eliminate the appearance of a shaved head if you leave your hair longer on the back and sides. We recommend complete shaving whenever possible since it allows us to expand the donor area to the entire permanent zone. That increases the evenness of the hair on the donor area and avoids the minimal contrast between the extracted and neighboring areas with higher density.
Shaving the donor area in layers allows us to harvest up to 2000 grafts in one day. However, it might not be possible to harvest more than that amount. For larger sessions, we need to have access to the entire donor area so shaving in layers might not be possible.
We offer Celebrity Hair Transplant (non-shaven FUE) so the patient doesn't need to have any shaved areas on the donor or recipient area. This procedure is more labor intense so fewer grafts could be transplanted in each session and it is more expensive for the same reason.Celebrity Hair Transplant is popular among celebrities who do not want any evidence of a hair transplant (even in the first few days after the procedure). This hair restoration technique allows the surgical team to either excise the grafts with long hair or cut only the hair that needs to be harvested so there is no visible shaved area on the back of the head.
Do I need to shave my head for a hair transplant?
Non-Shaven FUE – FAQ With Dr. Mohebi.
Do you have a question for Dr. Mohebi? If so, Contact Us today!