Best Technique and Approach for Trichophytic Closure
Donor scar visibility has to do with two factors:
Hairless scar tissue
The narrow edge next to the scar that has no hair due to minimal transection of hair follicles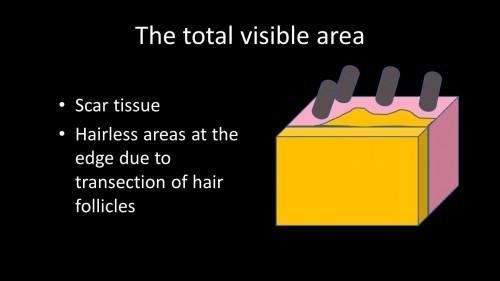 Although most surgeons are quite familiar with scarring and the mechanisms involved with its development, not many pay attention to the portion of the scar visibility that is seen due to hair shaft transections.
Follicular distal transection is always followed by loss of the transected follicles, leaving the area with no visible hair. Normal scarring could be stretched due to:
Individual factors
Technical problems
Traditional upper or lower edge Trichophytic Closure can improve the visibility of the stretched portion of donor scar. However, it cannot restore hair in the marginal areas of scar that have lost hair due to distal transection of hair follicles. The only way we can remove the transected edge of wound is through Partial Trichophytic Closure (PTC). PTC removes a very small wedge from the margin of the skin—only where the operator finds distal follicular transection. The removed area of skin is the surface area that will be looked bald to the injury to the distal parts of the follicle.
PTC is a novel method that allows the surgeon to minimize the visibility of scalp scars much better than what is possible with only a traditional Trichophytic Closure.
In summary, PTC brings hair into the scar from the edges and reduces the contrast between the scar and the surrounding areas of scalp. This procedure is done through minimizing the hairless areas next to the scar. PTC reduces the visibility of the scar by eliminating the effect of distal follicular transection that may develop a hairless edge adjacent to the scar. It is a subtle but important step in improving the scars of FUT transplants.
This publication was presented by Dr. Parsa Mohebi at the Brazilian Congress of Hair Restoration Meeting in Maresias Beach, Sao Paulo, Brazil.