Skype Consultation
Thanks to Skype, our offices are not too far away for anyone. Patients can now schedule an online consultation with the doctor from any part of the world.
We prefer to perform an in-person consultation so the doctor can closely evaluate your hair and scalp as well as perform a microscopic evaluation. If an in-person visit is not an option for you, take advantage of a Skype or FaceTime consultation. When contacting our office, simply let our staff know your desire to schedule an appointment using either of these methods. We will email you a document to obtain basic information and photos so that the doctor can review your condition prior to your consultation.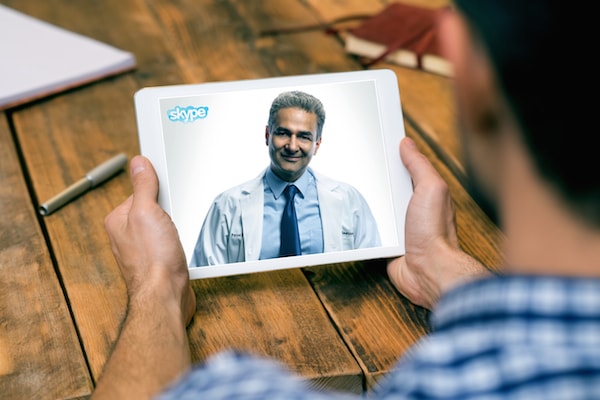 Basic information we need includes:
Patient information such as name, age, address, phone number, etc.
Your family history of hair loss
Previous hair loss medications including prescription and over the counter
Prior hair restoration procedures
Current medical conditions, medications and allergies
Photos showing the front, side, top and back of your scalp
How to Prepare for Skype Consultation
On the day of your online consultation, our staff will contact you before your scheduled appointment to make sure your online connection is working properly. You should be seated in front of your computer in a quiet room that is well lit and free of distractions. Set up your computer in a way that the source of light is behind the computer camera to ensure your face, scalp and hair are easily visible. Not having proper lighting or not positioning the light in the correct manner may affect the ability of the doctor to perform a proper evaluation. Please keep some paper, a pen or pencil and a large hand held mirror handy if possible.
Once our staff is done checking your Skype connection and lighting, the doctor will begin the consultation appointment. If you currently don't have a Skype account you may sign up for free to be able to connect to us for your appointment.
Alternative Consultation Methods
If you are not able to utilize Skype for your consultation, we do have other methods for you. If you use Apple products such as an iPhone, iPad or iMac, you can set up a FaceTime consultation with us. You can also fill out our consultation form and include your photos with the form to schedule a phone consultation.
Feel free to reach out to us via telephone if you have any questions or if you are ready to schedule a hair restoration consultation appointment with us.  A member of our staff will contact you shortly.