Regenerative Medical Products – Can They be Used to Treat Hair Loss?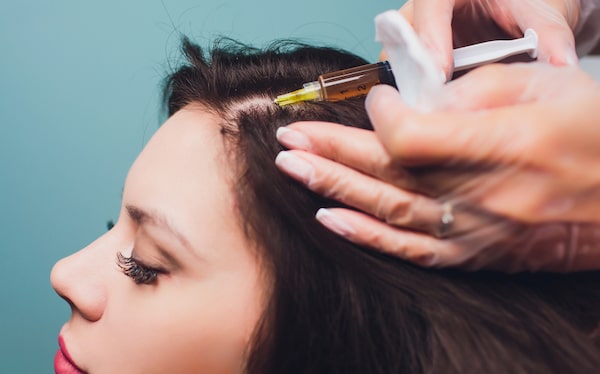 Patients who are experiencing hair loss do not always turn to a hair transplant to restore the hairline. They might not have enough quality donor hair to transplant to the scalp or they might not want to have the surgery. Instead, there are some people who prefer to take a more unconditional approach to the issue of hair loss by talking to a doctor about using platelet rich plasma (PRP) or stem cells to address the issue of balding or thinning hair on the scalp. While both of these treatments are available in the offices of many doctors, this does not mean they are an ideal treatment option.
PRP and Stem Cells for Hair Loss
Platelet rich plasma has been suggested as a possible hair loss treatment as it uses growth factors as a possible method of restoring hair on the scalp and also preventing hair loss. The PRP that is extracted from the blood of a patient has been shown to contain proteins such as growth factors which is one of the reasons it is used by some doctors as a potential hair restoration treatment option. Some of the growth factors found in PRP are also involved in the growth of hair which has caused the assumption that platelet rich plasma might be a possible option in treating baldness.
When it comes to stem cells being used to treat hair loss, the doctor does not remove a large number of hair grafts to treat the area of hair loss on the scalp. Instead, the surgeon removes a small sample of skin so hair follicles can be harvested by the medical team. The hair follicles are then replicated in a lab so they can be implanted back into the scalp of the patient experiencing hair loss.
FDA – What Does it Say about PRP and Stem Cells for Hair Restoration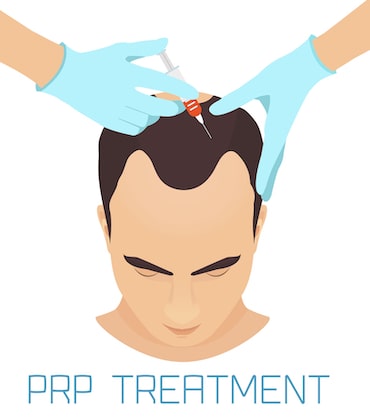 The Food and Drug Administration (FDA) of the United States has been granted the authority to regulate treatments such as stem cells and PRP for hair restoration. One of the tasks that the FDA handles is making sure the public has the correct information they need when it comes to products and remedies.
Since there is a good amount of misleading information available on the Internet about products that are marketed as treatments and cures for medical conditions, the FDA has a mission to make sure consumers are not misled by product information that is incorrect or marketed in an illegal manner. In addition, the organization makes sure the products, medications or treatments are not being promoted if they have not been shown to be effective or safe to use. In addition, the FDA determines if there are safety issues or risks the public needs to know about before they make a treatment decision.
In general, the Food and Drug Administration wants to make sure consumers have the necessary information about how products are regulated and what they should look for if they are considering having a certain treatment option (such as stem cells or PRP).
Stem cell products, also with exosome products such as PRP, are regulated by the FDA. At the moment, the only stem cell products that approved by the Food and Drug Administration for use in the United States are blood-forming stem cells (derived from umbilical cord blood) for use in patients with blood production disorders. On the other hand, there are currently no exosome products that are approved by the Food and Drug Administration.
Stem Cells and PRP and the FDA – What Does This Mean for Patients?
If a person is considering using a product that is being marketed as a regenerative medicine product to address their particular case of hair loss, such as stem cell products and PRP, they need to know that these products have not been approved for this purpose along with not being approved for use in treating or preventing COVID-19, the treatment of any orthopedic conditions such as back/hip/knee/neck/shoulder pain, the treatment of any neurological disorders such as ALS/MS/Alzheimer's Disease/Parkinson's Disease or any cardiovascular or pulmonary disease including heart disease or emphysema.
The FDA has posted information on its website that address the potential risks of these products as well as offering advice for anyone thinking about using them.
Stem Cell Treatment and PRP at Parsa Mohebi Hair Restoration – Our Position on the Issue
We have always warned our patients about the use of PRP and stem cells even though they are available from many doctors across the country.
One of the reasons we do not support the performance of these treatment options is because there is simply not enough data currently available to support the effectiveness of these treatments. However, patients do need to do proper research as some medical practices are marketing them as proven solutions for the medical condition of hair loss and as an effective method of hair restoration.
Our office has always referred to them as experimental and unconventional treatment methods and, for the reasons shared in the previous paragraph, we will continue to refuse to offer them until there is sufficient, proven, long-term evidence that shows their effectiveness in the future.