Q&A: What do I need to know before an ARTAS hair transplant?
Q: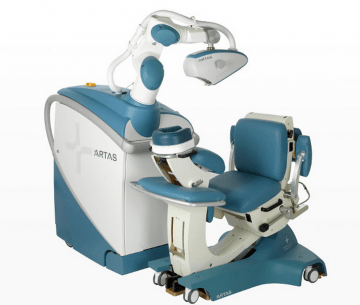 Hi, Dr. Mohebi!
I saw you're working with the ARTAS robotic hair transplant system, and I think the idea of a machine doing the transplant is really exciting, but I'd like to know more about it before I fully commit to it. Thank you!
A:
ARTAS is a robotic device that can help a surgeon extract hair in a more automated way during an FUE procedure. ARTAS is a great option for prospective transplant patients! It can expedite the graft-harvesting process and minimize the human error. This is important for clinics who are not doing FUE on a regular basis or have a high transection of hair grafts.
However, it's worth noting that the Robot is not a replacement for the artistic touch and scientific background of your doctor; you only have to look at it as a device that makes it easier for your surgeon to harvest larger number of grafts in shorter time.  Of course, there are some exceptions to this, too–no one case is the same! It's important to have an evaluation with a hair restoration surgeon who offers this technique along with other techniques and see if it is the right option for you.
Dr. Parsa Mohebi is a nationally ranked hair transplant surgeon located in Los Angeles, CA, and he is available to answer your questions. Are you concerned about hair loss? Would you like to know more about the hair transplant process? Submit your question to info@parsamohebi.com and follow us on Twitter and Tumblr!