Q&A: Hair Loss After Face Lift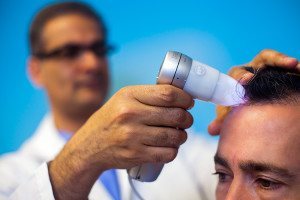 Q: Hi, Doctor! I had a face lift a little while ago (I'm a post-menopausal woman) and I was just a little concerned about how the surgery may have affected me in ways I wasn't prepared for. The hair around my post-surgical scar and temples has yet to grow back. I take HRT, and am generally in very good health. Though I've tried many topical treatments, nothing has worked! The hair at the back of my head is still in perfectly fine condition. What could I do to fix this?
A: Great question! It is not uncommon for patients to experience hair loss following a face lift or forehead lift. Generally, the loss occurs near the scar, on the temples, as you've described experiencing. One of the best options for this sort of problem is a hair transplant. If you are a good candidate, with good donor hair quality, a hair transplant can minimize scar visibility and restore thinned or receding temples and corners.
Dr. Parsa Mohebi is a nationally ranked hair transplant surgeon located in Los Angeles, CA, and he is available to answer your questions. Are you concerned about hair loss? Would you like to know more about the hair transplant process? Submit your question to info@parsamohebi.com and follow us on Twitter @DrMohebi!