Parsa Mohebi, MD The First in America to Transplant Long Hair FUE Grafts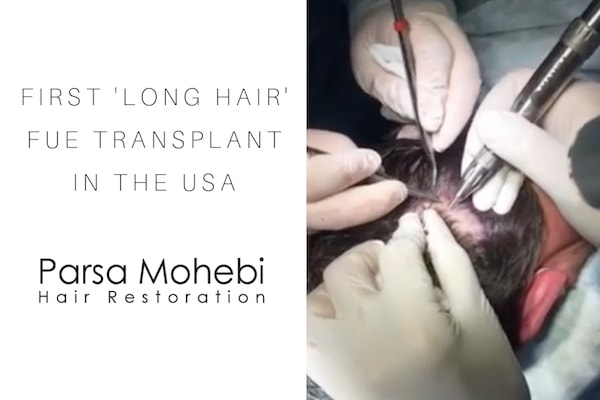 For many men that are considering undergoing a hair transplant, the thought of having to shave their scalp to achieve a full head of hair is a deal-breaker. The potential humiliation of taking any amount of time to regrow a shaved head is often perceived to be a worse ordeal than the satisfaction of a lifetime of having hair.
Thankfully, advancements in FUE technology in the past few years have made it possible for men to get a hair transplant without shaving their head. By not having to shave their head, it makes it almost impossible to tell that a person had a hair transplant.
Does this seem too good to be true? Take a look at the video below as Dr. Mohebi performs the first ever long-hair Celebrity Hair Transplant™ by Dr. Parsa Mohebi in the United States:
Celebrity FUE
As you can see from the video, there is no head-shaving involved and no downtime on the part of the patient so patients can return to work the next day. This groundbreaking procedure is a great option for patients that do not want to shave their head or need to receive a smaller number of grafts during the hair restoration process.
If you have been putting off a hair transplant because you don't want to shave your head, your solution is here! Schedule a consultation with our office today to find out if you are an ideal candidate for Celebrity Hair Transplant™ by Dr. Parsa Mohebi.