Parsa Mohebi Hair Restoration Establishes an Advanced Training Program for Hair Transplant Technicians
Los Angeles, CA (PRWEB) October 23, 2013
The advancements made in hair restoration are producing results that look completely natural and undetectable. Surgeons can completely redefine hair lines and add density to the top and crown of the head.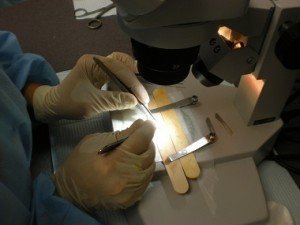 Having a group of qualified and trained surgical technicians plays a key role in the outcome of hair transplant surgeries. Parsa Mohebi Hair Restoration recently started its unprecedented hair transplant technician training program in order to ensure consistent and skillful workforce for its hair restoration procedures.
When choosing a hair transplant surgeon, one must consider not only the skill level of the surgeon, but the team of hair transplant technicians who work under the direct tutelage of the hair transplant surgeon. Hair transplant technicians must demonstrate competence in surgical techniques for hair restoration. The process was explained by Dr. Parsa Mohebi, "Technicians are trained with working on artificial hair to start with. They use synthetic material under the microscope to help improve their hand eye coordination, which is essential to the success of a hair transplant. After being efficient with cutting and placing with the synthetic hair, the technician will continue practicing with bovine skin, which is reasonably close to human skin. Only after the program director is confident that the hair transplant technicians are efficient with model hair follicles, they then can be promoted to work on human hair."
The technicians should take the examination designed to test their ability to prepare the patient for surgery and skill in dissecting and implanting the follicular unit grafts. Those who are successful taking the exam can join the surgical team of Parsa Mohebi Hair Restoration with the supervisions of senior technicians and the program director.
These technicians are personally evaluated by Dr. Mohebi on their skills and competency when assisting in surgery and during hair transplant graft preparation. Dr. Mohebi states, "Hair transplant technicians play a big role in the hair transplant procedure and unlike many other cosmetic procedures a surgeon may require a team of over 5 hair transplant technicians. Hair transplantation has to do with the quality of work and efficiency of the hair transplant technicians as much as the surgeon himself."
We choose the technicians to participate in our unique training program through a discerning level of criteria which include:
Strong Ethical Foundation
Observation Skills
Superior Hand-Eye Coordination
Prior training as surgical or medical assistant
The training program is tailored to qualify our surgical technicians for hair restoration. It guarantees that all of the surgical technicians are knowledgeable and equipped with the newest advancements in hair restoration. It includes many hours of hands on training in addition to the theory and lecture series. Graduated hair technicians could be recruited by Parsa Mohebi Hair Restoration or other hair transplant centers or individual hair transplant surgeons throughout the United States.
About Parsa Mohebi Hair Restoration:
Parsa Mohebi Hair Restoration was established in 2008 by the reputable Dr. Parsa Mohebi. As first chairman of FUE Research committee and creator of the several methods and techniques in modern hair restoration, Dr. Mohebi and his staff provide the most advanced techniques in hair restoration. The overall goal at Parsa Mohebi Hair Restoration is to restore patient's self-esteem through the use of quality hair restorations.