Movember Vs. No Shave November – Everything You Need to Know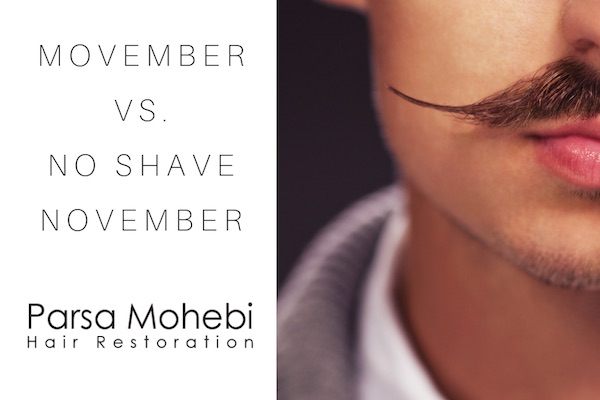 The month of November, also known as "Movember" or "No Shave November", has long synonymous men with men growing moustaches and unkempt beards for the entire month. But, why? Is it simply because both have a good ring to them? Is it because men are lazy and want an excuse to not shave?
In the spirit of keeping up with everything hair-related, we decided to take a look into the origins and meanings of 'No Shave November' and 'Movember' and give our readers the scoop. Enjoy!
Is there a difference between 'Movember' and 'No Shave November'?
Although Movember and No Shave November are typically used synonymously, both phrases are not interchangeable and represent entirely different organizations and causes. Here's what you need to know about each organization:
Movember

Despite it now being known mostly for being a fashion trend, Movember began as a challenge in 2003 among 30 men in Australia to grow moustaches in an effort to raise awareness about men's health issues. Today, over 5 million men and women participate in the tradition started in 2003 each year.
According to Wikipedia, Movember is defined as follows, "Movember (a portmanteau of the Australian-English diminutive word for moustache, "mo", and "November") is an annual event involving the growing of moustaches during the month of November to raise awareness of men's health issues, such as prostate cancer, testicular cancer, and men's suicide."
No Shave November?

Similarly to Movember, No Shave November was started to create awareness by growing facial hair. The biggest difference seems to be that No Shave November advocates growing all facial hair, instead of just moustaches. Specifically, the No Shave November charity organization advocates men to donate the money they typically spend on razors, shaving cream, and other shaving needs during the month of November to charities promoting cancer awareness. According to their website, "The rules of No-Shave November are simple: put down your razor for 30 days and donate your monthly hair-maintenance expenses to the cause. Strict dress-code at work? Don't worry about it! We encourage participation of any kind; grooming and trimming are perfectly acceptable."
Our Take On November
Although we love seeing all of the interesting moustaches, beards, and styles during the month of November, we think it is important to remember that both the Movember and No Shave November traditions were started in the spirit of spreading awareness about a very important issue – men's health. If you want to learn more about Movember, No Shave November, and learn how you can get involved in the causes, visit their official websites here:
Movember: https://us.movember.com
No Shave November: https://no-shave.org