Mohebi Life Natural Hair Support is Now Available!
After years of planning and formulating our product to the highest standards possible, Mohebi Life is finally here! Mohebi Life product uses ingredients that are backed by research, and it is now available to men who have been looking for a way to enjoy supporting and maintaining their hair naturally.
Mohebi Life – Ingredients That Make a Difference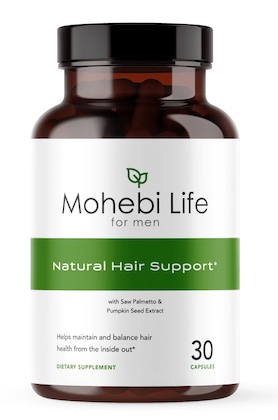 Mohebi Life for Men is now available for use by male patients who suffer from male patterned baldness! Mohebi Life hair supplement contains a combination of two of the strongest herbal DHT blockers: saw palmetto and pumpkin seed oil extract. Mohebi Life also contains the following essential vitamins and minerals for hair:
Vitamin D
Biotin
Iron
Zinc
In order to help those who use the product to achieve their desired results, we have included therapeutic doses of herbal DHT blockers along with necessary vitamins and minerals that are essential to the process of healthy hair growth. Unlike products such as finasteride which exhibited some side effects, the ingredients contained in Mohebi Life showed little to no side effects. This makes Mohebi Life hair supplement the perfect replacement product for anyone who experienced side effects with hair loss medications. Mohebi Life natural product is also a great solution for men who do not want to use finasteride or other chemical products.
Mohebi Life is easy to take as only one capsule per day is necessary when taking the product. While other products such as Nutrafol require patients to take four capsules per day, Mohebi Life can be taken once each morning, so patients don't have to worry about remembering to take the next dose during their busy day.
To sum it up, Mohebi Life Product offers:
Natural supplements
Reliable sources
Tested and proven ingredients
One daily dose
Every vitamin and mineral that is essential to hair growth
No BS
How to Obtain Mohebi Life
We try to maintain free samples for Mohebi Life products for both our past and new patients in our offices. Please don't forget to ask your doctor about it.
The samples contain a 30-day supply for anyone who wants to try Mohebi Life before they make the commitment to receive it regularly through MohebiLife.com. Contact us today for more information.