Joe Buck Hair Transplant – New Look for a New Football Season
The year of 2022 has seen a lot of changes for Joe Buck on a professional and personal level. Buck left his broadcast home of many years, Fox Sports, to take on a new challenge of announcing football games for ESPN. In addition, he attended his own version of "training camp" this week at the new offices of Parsa Mohebi Hair Restoration by undergoing a hair transplant with Dr. Mohebi.
Joe Buck Hair Transplant – Get the Details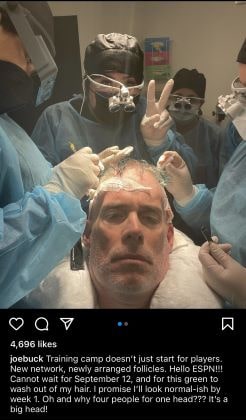 According to a post on his Instagram account from just a few days ago, "Training camp doesn't just start for players. New network, newly arranged follicles." Buck was referring to getting ready for his debut as the lead announcer on Monday Night Football on September 12th. The photo with the caption included some of our team members posing with Joe for his selfie. He added, "Oh, and why four people for one head??? It's a big head!"
On another Instagram post, Buck compared his current hairstyle to the character of "Arthur" on "Peaky Blinders." He referred to his look the day after his FUE hair transplant as "my new Peaky F'in Blinders cut." Buck also referenced Dr. Mohebi with "Thanks to Dr. Parsa Mohebi for being the gentle, genius he is. This isn't a paid ad by the way, he's just that good."
Joe Buck visited our office last year to have a hair transplant that addressed some of the hair restoration results he gained in the past from other doctors. Joe has made no secret of having multiple hair transplants in the past or his desire to gain a more youthful hairline. We even spotlighted his hair restoration journey at the time with a video that showed the thought and care that went into planning the youthful hairline Joe was trying to gain by visiting the team at Parsa Mohebi Hair Restoration:
One of the things Dr. Mohebi often discusses with patients is the fact that a hair transplant procedure, performed using the latest hair restoration technology, can provide results that last a lifetime. When Joe Buck began his hair restoration journey, the year was 1993 and hair transplant technology was nowhere near the advanced methods that are currently available to the public.
One of the reasons Joe decided to have a hair transplant was the fear of losing his hair that he felt as a younger person. As mentioned above, Buck had his first hair restoration surgery in 1993 and, as he described himself in his 2016 memoir, "I, Joseph Francis Buck, became a hair-plug addict."
It is not surprising that one of the most famous and successful sportscasters in the television industry was worried about losing his hair. Television is a visual medium and this means that everyone from TV stars on network television to local TV news anchors want to have a youthful look. To quote Joe Buck, "Broadcasting is a brutal, often unfair business, where looks are valued more than skill."
Hair Transplants – How They Transform the Life of a Patient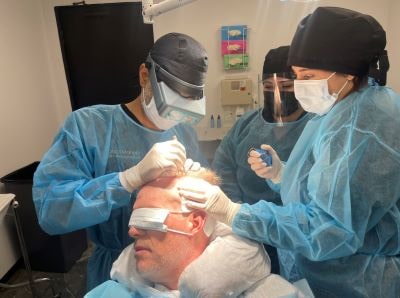 The loss of hair on the scalp can give a person a look that is older than their actual age. In addition, a person with bald spots or thinning hair on the scalp can suffer from a lack of confidence in their appearance and even have self-image issues due to the look of their hairline.
A hair transplant is performed by taking donor hair from another part of the body and transplanting it into the balding areas on the scalp. The donor hair usually comes from the back or sides of the scalp as the hair in those sections of the head is resistant to balding. If there is not enough available donor hair on the head of the patient, the necessary hair grafts can be taken from other areas of the body such as the beard or the chest.
The transplanted hair will start to grow where it is placed in the scalp, and it will act like the natural/native hair of the head. The results last a lifetime, and the results are also natural in appearance. A full and healthy hairline gives a person a rejuvenated appearance as well as a more youthful look in their personal life and professional career.
The desire to look youthful in the business world bring us back to the story of Joe Buck. As shown in his quote earlier in this article, the appearance of someone in the broadcasting industry is often given more thought than the actual skills and abilities of the person. The reasons that a patient wants to have a hair transplant can range from wanting a youthful look to missing the hair they once had on their scalp to simply desiring a change in their appearance and outlook on life. Joe Buck is a good example of a person who knows what they want to achieve when it comes to the look of their hairline. Our team is happy that he has trusted us to be a major part of his hair restoration journey.