Is Beard to Scalp Hair Transplant the Future?
Beard to scalp hair transplants have become more common. Most of these are performed to correct male pattern baldness. Encouraged by our strategies and new findings on how to use facial hair, we have performed numerous beard to scalp hair transplants in the last two years with great results. But, the procedure may need to be performed more than once on many of these patients to ensure full coverage of the balding area. Luckily, a beard to scalp hair transplant can provide patients with a plentiful source of hair.  This is especially important for men who don't have sufficient donor hair due to low density or extensive balding areas that need coverage.
Why has beard to scalp transplant been on the rise?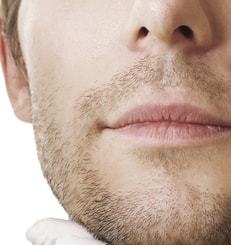 One reason is because our improved understanding of the anatomy of the hair follicular units has furthered the dynamics involved in removing grafts individually. The other reason is that our techniques for extracting follicular units has developed, allowing us to refine the extraction methods from different parts of the body. Previously, extracting hair from the face and implanting it into the scalp was a daunting task that frequently ended with poor results. Now, because of the change in tactics and FUE devices, it is much less demanding to harvest hair from the skin of different parts of the body. Comparing those hairs from different parts of the body like the face, limbs, genitalia, and torso, has taught us that the facial hair is most like the hairs on the scalp. Beard hair has a life cycle, shaft thickness, and length of growth that is very similar to the scalp hair.
Our expanding knowledge of the tools used and the advanced strategies has also made it possible to use facial hair to restore balding regions on the scalp more efficient. In the past, the use of bigger punch sizes made for a bigger wound surface area that prompted healing problems such as, scar development and hypopigmentation of the skin. A deeper insertion of the punches used by older methods led to low-level transections of beard follicles.  Low-level transection resulted in a higher number of ingrown hairs in the donor area of the face. Development of ingrown hairs is an extremely undesirable complication of a beard to scalp hair transplant, which previously restricted the utilization of facial hair for restoration of the balding region. Incision depth control and utilization of smaller punch sizes have lessened such complications, making beard hair an extraordinary source for hair restoration for many men.
Beard hair to scalp transplantation has its own limitations
There are men who can't grow facial hair or have a very sparse beard. Some men are not allowed to shave or trim their facial hair due to social or religious reasons. Many men would like to keep the option to grow beard in the future.  Extraction of facial hair for these individuals is still a possibility but, the donor area would be limited to the neck and beneath the mandibular line. Despite of the limited donor area in these individuals, extraction of hair from these zones can provide a decent number of suitable hairs that can restore a good portion of the balding area furthering weapons used in the restoration of hair on those suffering from hair loss.