Hair Transplant Consultation – What You Need to Know
If the time comes that you want to talk to a doctor about having a hair transplant, you will need to schedule a consultation appointment with the doctor you have in mind. The process of having a hair transplant is a very personal experience and an individualized treatment is necessary for each person. Before you attend a consultation appointment with a doctor, here is what you need to know about a hair transplant consultation appointment.
Hair Transplant Consultation – What Happens During the Appointment?
The first step in planning for a consultation appointment about your hair loss is researching doctors with the necessary training, experience, and board-certification in performing hair transplant surgery. Even if the surgeon specializes in one particular type of hair restoration procedure, think twice if the doctor is not open to other ideas and/or is trying to convince you that their preferred method is the "only way it should be performed."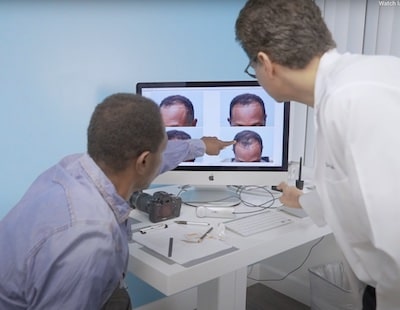 During the consultation appointment, the doctor will examine your scalp and evaluate your current level of hair loss. In addition, the doctor will ask questions about your individual medical history as well as the medical history of your family. The initial examination is to get to know more about you and your hair loss goals and also make sure you are healthy enough to undergo a surgical procedure. The doctor will also set realistic expectations about the hair restoration process, so you will have a better idea about what to expect when it comes to the appearance of your hair after the hair transplant procedure.
As part of the examination of your medical history, you should share any history of issues you might have with blood clots and excessive scarring, or if you smoke or drink on a regular basis.
The consultation appointment is your chance to voice any concerns you have about undergoing the procedure and to get answers if you are not sure about how a particular hair transplant procedure is performed. It is important for you to completely understand how hair transplant surgery works to help you gain the desired results. It is also vital that you understand the recovery process and what the scalp will look like during each step of the post-op process.
Common Questions to Ask During a Hair Transplant Consultation
While you might not have to ask all of these questions during your appointment, here are some of the most popular questions asked by patients while meeting with their surgeon:
Are you board-certified and, if so, which board are you certified by? (For example, the American Board of Hair Restoration Surgery)
What is your background in the field of plastic surgery and how many years of training do you have?
Do you have hospital privileges to perform this surgery? If so, which facilities have granted you hospital privileges?
Will the hair transplant be performed in a hospital or at your own medical center?
How many hair transplants have you performed in the past?
Do you perform multiple types of hair transplants, or do you only focus on one technique?
How do you tell if I am an ideal candidate for a hair transplant?
Can I see "before and after" photos of actual patients you have treated in the past?
How will you perform my hair transplant and why will you use that particular medical procedure?
How many hair grafts will be needed to achieve my desired results?
Where will the donor hair come from on my body?
What is the recovery process like? Will I need assistance from a friend or family member at any point of the recovery period?
Are they any risks or side effects that I need to know about when it comes to the procedure or the recovery period?
If I do experience any type of complications, what should I do? Do I contact your office?
What happens if I am not happy with the final results? Do I have any options when it comes to hair transplant revision?
Hair Transplant Consultation – Why it is Important
The hair transplant consultation appointment can be considered to be your time "on stage" as it is your opportunity to guide the conversation about your goals and desired results. The consultation appointment is also your chance to learn more about your doctor and to make sure you are comfortable chatting with the surgeon and that you trust the doctor to perform the procedure. If the doctor is not able or willing to answer the questions you ask during the meeting, there is a good chance that the surgeon is not the right person to perform the hair transplant. You need to be able to trust your doctor and know that the medical professional has your best interest in mind when it comes to performing the surgery, the final results, and that the doctor is properly trained and experienced in performing a hair transplant.