Folliculitis After Hair Transplant
Q: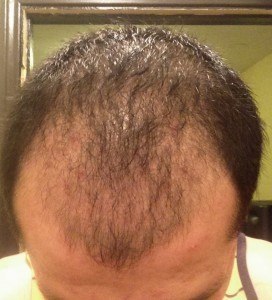 Hello Dr. Mohebi.
I had a FUT hair transplant last month at your Los Angeles hair transplant office and I am looking forward to seeing the final results. However, I have noticed that I am starting to get some pimples appearing on my transplant area. I know that you mentioned their appearance was going to be a possibility for me. I just want to know if I should I be worried that these pimples will have any type of negative impact on my hair growth?
Also, is it safe for me to put minoxidil on the area where the pimples are appearing?
Thanks in advance for the answers. I look forward to seeing you, and your staff, again in the near future at my follow-up appointment.
A:
Thanks for the questions. It is always better to ask them instead of simply being worried about the progress of your hair transplant results.
First, do not worry about the appearance of these pimples on the transplanted area of your scalp. It is quite common to have a few pimples appear after the performance of a FUT (Follicular Unit Transplant) or a FUE (Follicular Unit Extraction) on the transplanted area. These pimple-like lesions are the result of a condition known as folliculitis and they happen due to the inflammation of hair follicles. Folliculitis usually occurs between the first few weeks after your transplant all the way through the six month anniversary of your hair restoration procedure.
One of the important things to know about the appearance of these pimples is that there should be no more than 3-5 of them appearing on the scalp at the same time.  If you have more than that at one time, or if they start to be become painful while also causing significant skin redness, you need to have them seen and examined in our office as we have experience in treating this issue. Although they are self-limiting and do not negatively impact the growth of your hair grafts, we can easily drain them in our office if they start bothering you.
As to your question about the use of minoxidil…Folliculitis doesn't normally need any type of antibiotic treatment. In fact, a simple drainage of the follicles usually treats the condition. The use of Rogaine (minoxidil) on the specific areas where you are experiencing Folliculitis is fine as long as it does not irritate the lesions. If it does cause any irritation in the areas with the pimples, discontinue its use until your folliculitis is properly treated.