Finasteride and Depression – The Facts Revealed
For many people, the idea of losing their hair is not a pleasant one. Once they start to actually start to suffer from hair loss, they often turn to medications and treatments to try and slow down, or reverse, the growing amount of balding or thinning hair on the scalp. One of the most popular prescription medications to treat male pattern hair loss is finasteride which blocks the production by the body of a male hormone, in the scalp, that can stop the growth of hair. Even though finasteride is a very popular hair loss treatment, there have been recent reports about a connection between finasteride and depression among those that use the product.
Finasteride and Depression – See the Connection
Finasteride, which is sold under the brand name Propecia, was the recent subject of an investigation by Reuters. The news agency reported on unsealed court documents and records that showed both Merck (a drug manufacturer) and United States regulators were aware of reports that revealed suicidal behavior among patients using the drug. In addition, it was revealed that they failed to include information about these possible risks in a 2011 updated of the warning label of the drug.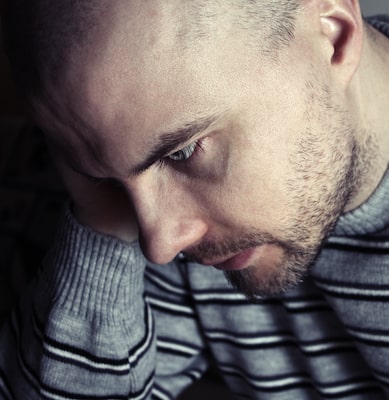 Reuters also revealed that, since this information was made know to the public, the U.S. Food and Drug Administration (FDA) has received more than 700 reports of deaths by suicide, or suicidal thoughts, among people who either use Propecia or one of its generic versions. This number included at least 100 patient deaths. It was also reported that, withing the first 14 years of the sales of Propecia, the FDA received 34 of these reports (which included 10 patient deaths).
In addition, Reuters reports that an internal assessment by Merck revealed 200 reports of depression and/or suicidal ideation among make users. It was determined that the total number of these reports were not high enough to require more than regular data monitoring. (This included the number of cases of depression and suicidal behavior not being high enough to need more than regular date monitoring).
It was also reported, in a study published last year, that reports of anxiety, suicidal thoughts and depression, among patients age 45 or younger, who used the drug in a significant manner since 2012. The information was obtained from a World Health Organization (WHO) database of drug safety reports from more than 150 nations.
Finasteride and Depression – Merck Speaks Out on the Subject
When asked by Reuters about these reports, Merck said "the scientific evidence does not support a casual link between Propecia, and suicide or suicidal ideation and these terms should not be including in the labeling. Merck works continuously with regulators to ensure that potential safety signals are carefully analyzed and, if appropriate, included in the label for Propecia."
The U.S. Food and Drug Administration also issued a statement saying it "continues to monitor postmarketing safety data for Propecia." The FDA added that the information in these reports do not necessarily indicate that the drug caused "the adverse event". Instead, any type of related medical issue can be the result of the "underlying disease being treated, caused by some other drug being taken concurrently, or occurred for other reasons."
Patients and Finasteride – Should They be Concerned?
While Propecia is an effective hair loss treatment, patients should exercise caution and also be aware of their mood while they are taking the medication. It is also recommended for them to seek out alternative treatment methods if they have a history of issues such as depression or mental health problems.
Any patients with a history of issues such as depression should schedule a consultation with a doctor in order to discuss the use of the medication and to determine if it is an appropriate medical treatment that will lead to mental health issues as it is being used.
The issue of hair loss impacts everyone differently and goes beyond the visible signs of hair thinning or balding. The loss of hair on the scalp can have a negative impact on the self-image of a person and cause them to suffer doubt or a lack of confidence about their look.
Where there is less public shame or stigma attached to balding than there was in the past, the loss of hair on the scalp can be quite traumatic and have a negative on how people feel about their appearance.
Any questions or concerns about the use of finasteride should be discussed in advance with a board-certified medical professional who is experienced in treating hair loss. The doctor will examine the scalp of the patient in order to identify the cause of the hair loss and to determine if finasteride is the best option to address the issue. The doctor will also conduct a complete examination of the person to make sure the patient is, mentally and physically, an ideal candidate for a hair loss treatment plan.
– MA