Dr. Parsa Mohebi Elected Chair of FUE Research Committee of International Society of Hair Restoration Surgery
More people are benefiting from hair restoration with a new procedure that combines a hair replacement system with hair transplant.  
Los Angeles, CA (PRWEB) October 16, 2013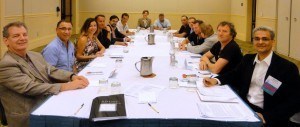 The International Society of Hair Restoration Surgery, also known as ISHRS, established an FUE (Follicular Unit Extraction) Research Committee in an effort to study and perfect applications for FUE transplant procedures. The members of this committee are among the most celebrated and best hair transplant surgeons in the field of FUE hair transplantation. Doctor Parsa Mohebi, elected chairman of the committee, will lead the effort in organizing and conducting multi-center research projects to advance the technology in this rapidly growing field. Dr. Mohebi stated, "As the chairman of the committee, I coordinate the different stages of conducting research, evaluating, and assessing different topics that need to be researched. We have a great team of the best hair transplant surgeons who are in the process of designing several advanced scientific studies to improve the quality of FUE transplant surgeries."
The importance of the committee is to maintain research and development for the newest techniques in FUE hair transplantation. Dr. Mohebi said, "There are still so many unknowns in the field of hair restoration when it comes to FUE transplants. One of our main goals is to evaluate the most recently developed methods and devices in performing FUE hair transplantation to maximize the final outcome for our patients."
According to the Chairman, new developments being made by the FUE Research Committee have helped promote more efficient techniques in FUE. "Almost every year, new FUE devices are being developed, such as the motorized extraction device or robotic arm for FUE graft extraction. Devices such as these improve the quality of FUE grafts while making the FUE transplants more efficient and less invasive."
The research being done will help improve the quality of FUE devices by eliminating the factors that contribute to the damage of follicular units. The committee will also focus on developing new instruments that could be used in the future for FUE patients.
About Parsa Mohebi Hair Restoration:
Parsa Mohebi Hair Restoration was established in 2008 by the reputable Dr. Parsa Mohebi. As chairman of FUE Research committee and creator of the several methods and techniques in modern hair restoration, Dr. Mohebi and his staff provide the most advanced techniques in hair restoration. Dr. Mohebi is the Author of Hair Restoration Blog where he answers patients' questions about hair loss treatments and hair transplant techniques. The overall goal at Parsa Mohebi Hair Restoration is to restore patient's self-esteem through the use of quality hair restorations.