Dr. Mohebi Named a Fellowship Training Director by Prestigious Organization
The science behind hair restoration surgery is always improving and evolving as new techniques are researched and developed. Dr. Mohebi is proud to start 2017 by helping train the next generation of hair restoration specialists as he was recently named a Fellowship Training Program Director by the International Society of Hair Restoration Surgery (ISHRS).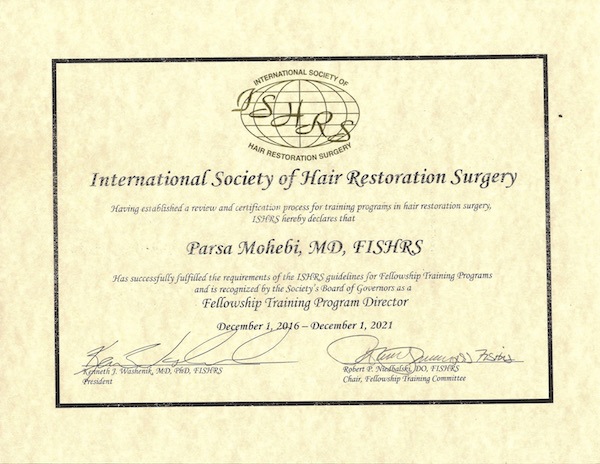 For Dr. Mohebi, the ability to train others brings his career back to where it started as he was mentored early in his career by one of the pioneers of hair restoration surgery, Dr. William Rassman. According to Dr. Mohebi, "The chance to learn from an experienced surgeon was invaluable early in my career. I am excited for the opportunity to offer guidance to others who are learning how to perform hair restoration surgery as well as how to provide patients with the results they desire."
Since the modern art of hair transplants is very different from how they were performed in the past, Dr. Mohebi recognizes the need to teach vital skills to surgeons through a proper training program. Parsa Mohebi Hair Restoration
Centers will begin accepting new fellowship applications in January 2017 and continue throughout the year.
There are only a handful of hair restoration centers around the world that are certified by ISHRS as hair restoration fellowship programs. The centers that are chosen have to undergo a rigorous examination process before being certified by this prestigious organization. Dr. Mohebi went on to say "We are very proud to be the recipient of this honor. We look forward to training the next generation of hair transplant surgeons in both the art and science of hair restoration."