Hair Restoration Doctor gets a Hair Transplant – See the Story
There are many stories about doctors giving patients the results they desire in their particular medical specialty. This is especially true of our very own Dr. Manu Gujrati AKA "Dr. G". He is the Medical Director of Parsa Mohebi Hair Restoration in Northern California and has been helping patients gain the full head of natural looking hair they have desired for more than a decade.  Dr. G is also well-known for making a life-changing decision that few doctors have taken in the past. He was recently a Los Angeles hair transplant patient at our Southern California medical center and is ready to share his journey with the world! Take a look below to learn more about his personal journey and why he decided it was time for this San Francisco hair transplant doctor to become a Los Angeles hair restoration patient!
Dr. G and His Personal Hair Restoration Story
When he first started considering the idea of undergoing a hair restoration procedure, Dr. G knew it was about more than the simple act of the surgery. He believes that the hair on the scalp of a person represents much more than just the appearance of the hair. Dr. G feels that hair represents the "inner vibrance" of the soul and a successful hair transplant is a combination of both art and science. The look of the hair on the scalp of a person can also contribute to their self-image and the confidence they feel as they go about their daily life.
As a San Francisco hair transplant surgeon, Dr. G spends a lot of time chatting with his patients in order to learn the reasons they want to have a hair restoration procedure. One of the most common answers that he hears is the fact that it is taking some of his patients a longer time each day to fix their hair/get their hair to look the way they want at the start of the day. Dr. G realized that he falls into that category as he has noticed changes in the appearance of his hairline and that it has been taking him longer to style it (as desired) over the years.
The revelation that he was experiencing the same daily reality as his patients made Dr. G realize that he could also make a change to his hairline. He decided to put himself "in their shoes" and have a hair transplant.
Dr. G Chooses His Own Doctor
Even though Dr. G is an incredibly talented surgeon, he is not able to perform a procedure on himself which means he needed to turn to a surgeon he trusted to provide the results he desired. His surgeon of choice was the founder of Parsa Mohebi Hair Restoration, Dr. Parsa Mohebi.
One of the reasons he chose Dr. Mohebi was the connection they have formed since working together. According to Dr. G, the two men "naturally think alike, we're passionate about our work and we are very curious individuals." When taking all of these factors into account, it seemed like a natural fit for the doctors to partner together on this Los Angeles hair restoration journey.
While Dr. G performs hair restoration surgery on our patients in San Francisco (and the surrounding areas), Dr. Mohebi treats patients that visit our office for Los Angeles and Beverly Hills hair transplant services.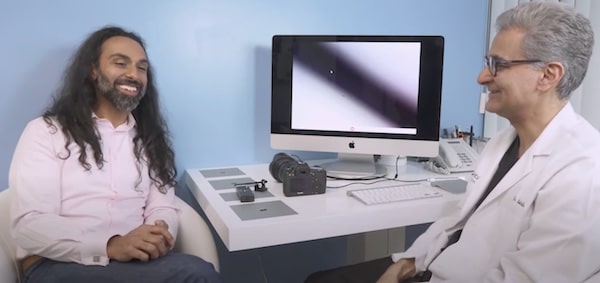 The two doctors gathered together for a consultation appointment so Dr. Mohebi could perform a thorough examination and evaluation of the current hairline of Dr. G. After discussing his goals and determining the type of results Dr. G wanted to achieve with the surgery, a treatment plan was created, and it was determined that the desired results could be obtained with a single surgery. The decision was made to design a youthful hairline but not one that could be viewed as being "juvenile" in appearance.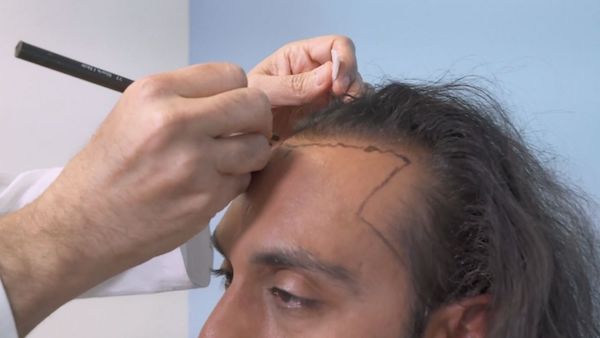 Hair Shaving for a Good Cause
As shown in our video showcasing Dr. G's hair restoration journey, his hair had not been shaved since an incredibly young age. As part of the process of preparing his scalp for the surgery, the surgical team at Parsa Mohebi Hair Restoration shaved Dr. G's hair.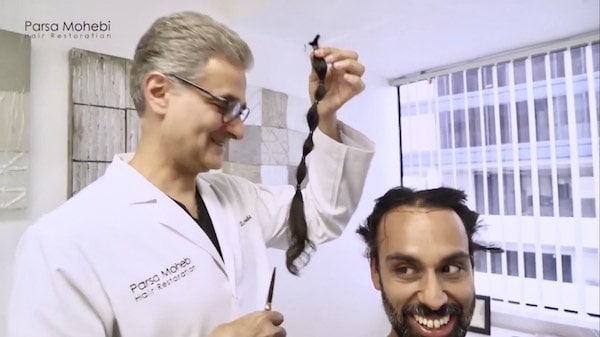 Since there was SO MUCH HAIR that was shaved from his scalp, Dr. G made the decision to donate his locks to a charity that makes wigs for those that are lacking hair due to any number of medical reasons.  Dr. G felt it was important to give a new start to others lacking in hair as he was also starting his journey to gaining a new hairline.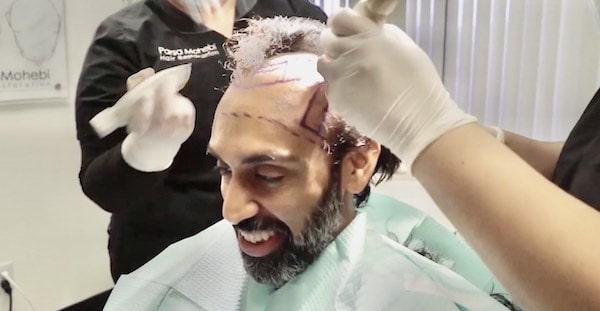 Dr. G – Creating a Story to Share with the Public
Spending time with Dr. G makes it immediately apparent that he is a passionate and devoted doctor. He is especially excited about the increased connection he will feel with his patients thanks to going through the hair transplant process as a patient.
There is one request that Dr. G hears from his patients on a regular basis, and it is a request for the opportunity to speak with someone that had the procedure in the past. They want to chat with someone that has first-hand knowledge about the surgery and can tell them what it will feel like, how the recovery process will unfold and how their life changed after the treatment. He realized that he will be able to give them a perspective about hair restoration surgery that other doctors are not able to share with their patients. Dr. G is looking forward to giving his patients an inside view about what they will experience on both an emotional and physical level.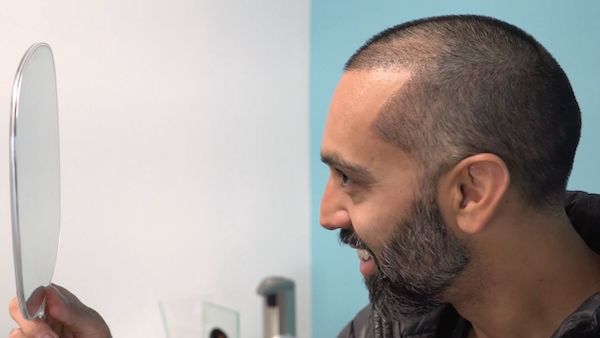 Dr. G Hair Transplant Surgery – Witness his Journey
It was particularly important to Dr. G that his hair restoration journey was documented for both his current and future patients.  Anyone interested in having a hair restoration procedure can browse the Parsa Mohebi YouTube page for our complete library of videos. Our YouTube page provides in-depth information about the various types of hair transplants, the costs associated with a hair transplant, hair restoration facts and myths, patient testimonials and so much more!
– MA