Research Suggests Balding Men at Higher Risk of Severe Coronavirus
The COVID-19 pandemic has impacted men and women of all races and ages. While coronavirus often does not seem to discriminate between those suffering from the disease, a recent study seems to show a strong connection between men that are balding, AKA suffering from hair loss, and severe cases of coronavirus.
Researchers Comment on Balding Men and Coronavirus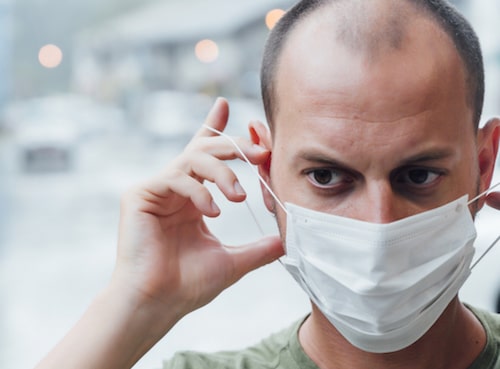 The link between the severity of COVID-19 and baldness has been getting more attention in the past few months. There are some researchers who believe that the link between balding and coronavirus is so strong that they are asking for baldness to be listed as a risk factor for COVID-19 and they want it to be referred to as the "Gabrin sign".
The reason that the researchers want baldness to be listed as a risk factor with this name stems from the death of Dr. Frank Gabrin who was the first physician in the United States to die from coronavirus. In addition, Dr. Gabrin was also bald and this is another reason the researchers want to name the risk factor after him.
Professor Carlos Wambler of Brown University, as well as the lead author of the study, told The Telegraph newspaper, "We really think that baldness is a perfect predictor of severity."
Research Connecting Balding Men and Coronavirus
There have been some recent reports where scientists have made a hypothesis that states coronavirus is much deadlier for men than women thanks to testosterone. Thankfully, there does appear to be some help for male patients when it comes to battling coronavirus.
For example, a group of Italian doctors have found patients that were previously given androgen deprivation therapy, which can greatly reduce testosterone levels, are four times less likely to die from the coronavirus disease.
In addition, a specific protein, TMPRSS2, is increased by testosterone which leads scientists to believe that the virus might be able to use this protein in order to unlock cells.
A research team located at London's Institute for Cancer Research is working to further examine the link. Plus, researchers at the University of California, Los Angeles are taking an in-depth look at testosterone-blocking therapy as a way to help develop further coronavirus treatments.
Testosterone and Coronavirus
Testosterone in the body can produce dihydrotestosterone (DHT) and this can lead to hair loss for a person. Thanks to the data showing the link between baldness and the severity of the coronavirus symptoms, there is a possibility that treatments designed to reduce the amount of testosterone can be used to slow down the virus.
Medical Officials Speak Out about COVID-19
In a recent interview with Science Magazine, Howard Soule, the executive vice president at the Prostate Cancer Foundation, said "Everybody is chasing a link between androgens and the outcome of COVID-19.
In addition, Karen Stalbow, the Head of Policy at Prostate Cancer UK, recently stated "There have been several recent pieces of research which indicate there may be a link between male hormones and increased risk of COVID-19. This has led some researchers to investigate whether hormone therapies commonly used to treat prostate cancer, such as enzalutamide, could reduce this risk.
Stalbow noted that most of the research has been in a lab and there is some conflicting evidence over the hormone therapies having the same impact in the lungs as they would have in the prostate cells of a patient. She also feels that, even with the current clinical studies being conducted, there is a need for more evidence about whether or not hormone therapies are a valid and effective COVID-19 treatment.
MA