Minoxidil (Rogaine)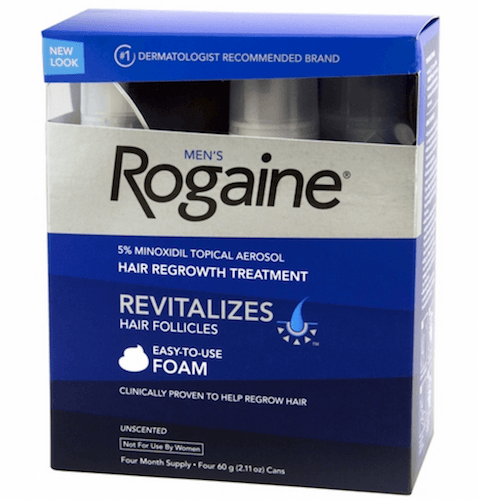 Minoxidil or Rogaine is an over the counter medication that is used to stimulate hair growth and slow down hair loss. It is well known for being the first FDA approved medication for hair loss treatment. Originally conceived to treat high blood pressure, it was found to be an effective treatment for hair growth, and was converted into a topical solution that was applied to the balding areas of individuals with hair loss. In the U.S., the solution is known by its more commercial name, Rogaine.  It was heralded for its ability to provide measurable hair growth without significant systemic side effects. Although not much is known about the mechanism or action of Rogaine on hair growth, it is known that Minoxidil is a potassium channel agonist and contains the chemical structure of nitric oxide, a blood vessel dilator. Although not as effective as the prescription based Finasteride, the combination of minoxidil and finasteride has proven to be even more effective when taken together.
Side Effects of Minoxidil
Common side effects of Minoxidil include itchy scalp, temporary shedding, allergic reactions in certain individuals, and low blood pressure in rare cases when an individual takes too much. Much rarer side effects include localized acne, dizziness, blurry vision, and some chest pain. These side effects are only temporary and cease with the discontinuation of the medication.
Women and Minoxidil
While Finasteride has proven to be ineffective in treating typical female hair loss, Minoxidil can be used to stimulate hair growth in many women. It is recommended that women take only 2% concentration of Minoxidil instead of the recommended 5% for men. Higher concentrations should only be prescribed by a physician.
Women are more likely to develop side effects when taking the drug if not properly monitored.  The most serious adverse effects are hypotension (decrease in blood pressure), and in rare cases, the appearance of some facial hair.  Women are also cautioned against taking the medication while breast feeding as the drug can be passed via the mother's breast milk.