What You Need to Know for Great Hair Transplant Surgery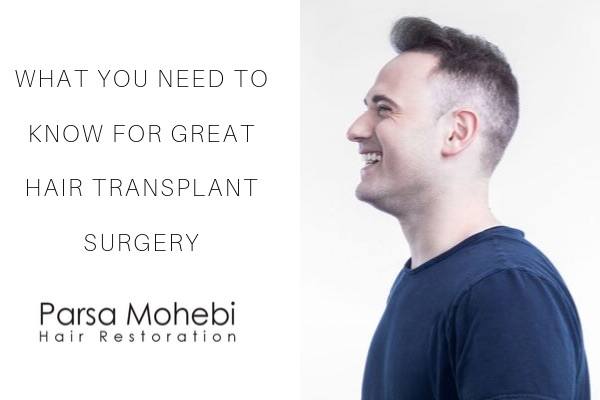 According to the International Society of Hair Restoration Surgery, 635,000 patients underwent hair transplant surgeries in 2016. There are two popular procedures to enable hair transplants, Follicular Unit Transplantation (FUT) and Follicular Unit Extraction (FUE). FUT is a procedure where naturally occurring groups of hair from the back or sides of your scalp are transplanted where necessary. The doctor harvests the hair via a long thin strip.
FUE is an alternative hair transplant procedure where follicular unit grafts are harvested using a tiny punch. These follicular unit grafts comprise one to four hair groups occurring naturally in the scalp. The punch used to collect them is just 0.7 to 1 millimeter.
If you're interested in hair transplant surgery, then obviously you'll want to find the best hair transplant doctors to perform these procedures. As you begin your search, here are some tips to help you find the best physicians.
1. Ask for Before and After Photos
When you are shopping around for the best hair transplant doctors, it is wise to ask every doctor you meet for a minimum of ten before and after photos relevant to your case. These hair restoration procedure pictures should be under the same kind of lighting, from the same angle, and in the same background.
Using these images, you'll be able to critically assess multiple procedures that the doctor has done and accurately gauge their skills. Any discrepancies will be easy to spot and query before you go in for any hair transplant surgery. Do not forget to pay attention to the top area between the crown and the hairline (anterior cap). Photos with a desirable result should show a clear view of the hairline.
Along with a request for before and after photos, you should also ask the doctor for images of donor scars once the hair-bearing tissue strip is removed for implantation.
2. Understand the Doctor's Qualifications
When looking for the best hair transplant doctors, you need to find out what the potential candidates specialize in. Traditionally, a hair transplant doctor should be board certified as either a dermatologist or plastic surgeon. If they aren't, it doesn't mean that they are not excellent at their job. You will, however, have to interview them and find out why they chose to venture into hair loss treatment despite training in another specialization.
The only practitioners you should consider the best hair transplant doctors are those that are members of the International Society of Hair Restoration Surgery (ISHRS). Additionally, any doctor worth considering should also be part of the Diplomats of the American Board of Hair Restoration Surgery (ABHRS).
So what if there are still several potential hair restoration doctors who have these certifications? A distinguishing factor to help you narrow them down further is their contribution to research. Take time to know if the doctor you plan to see has contributed to the science of hair restoration by way of publicized studies or by developing new procedures. Any research they have in peer-reviewed publications indicates their high level of patient care.
3. Seek Referrals
Would you spend tens of thousands of dollars to buy a car sight unseen? Of course not. Your health is more valuable, and as such, you need incontrovertible proof of a doctor's skill even if they are one of the best hair transplant doctors. As you weigh your options on which doctor to see for your hair transplant, it's essential to hear from those who have passed through their hands.
You may be able to request contact information for former patients from whom you can inquire about their experience with the doctor. In addition to this, you should also zero in on patients with similar skin and hair issues like yours.
Finding the Best Hair Transplant Doctors
Hair transplant surgeries are a part of your health and wellbeing, and there are two primary options for the procedure you can use to transplant your hair. For any of these procedures to work, you need a qualified and experienced hair transplant doctor on your team. Take the time to assess your options before settling on the best choice.