The Controversy Of Propecia And Erectile Dysfunction
Here at Parsa Mohebi Hair Restoration, we are constantly hearing about the concerns of our many patients who have been prescribed the popular hair loss preventative medication known as Propecia. Most patients with concerns have seen recent news reports, commercials, or magazine ads talking about the dangers of taking Finasteride. Since this is an effective medication proven to aid in the sustainment of receding or thinning hair, it is important to explain the facts in comparison with the rumors.
Early side effects (1 year)
The reported side effects based off of precise medical research for Finasteride at the 1-mg dose are uncommon and reversible. The one- year drug related side effects were over 1% greater than in the control group. The data showed that 3.8% of men taking Finasteride 1mg experienced some form of sexual dysfunction verses 2.1% in men treated with a placebo.
Most reported rumors center around sexual dysfunction occurring after beginning use of the medication, but there have been reports of sexual dysfunction that have occurred at later points in time. When studies were performed based through proper research methods, the sexual side effects were reversed by all the men who discontinued therapy, and in 58% of those who continued treatment. Once the medication was stopped, side effects generally disappeared within only a few weeks.
The initial studies done on finasteride for 12 months show that 1.4% of patients taking Propecia (945 patients) were discontinued due to adverse experiences which may have been drug related.
Here is the break down on the sexual side effect of finasteride in the patients who used it for one year only.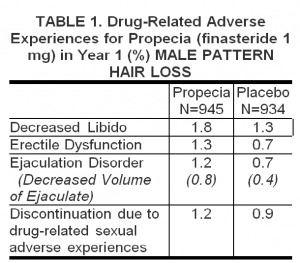 The men who continued using finasteride resolved some of the side effects in many cases. The resolution of the side effects was compared in the drug and placebo group. The incidence of each of the above adverse experiences decreased to ≤0.3% by the fifth year of treatment with Propecia.  This shows improvement of the side effects in the patients who took it over time.
In a study of finasteride 1 mg every day in men showed some decrease in volume to ejaculate of 0.3 mL (-11%) compared with 0.2 mL (–8%) for placebo in 48 weeks after beginning the treatment. Decrease in ejaculate was shown more significantly in higher doses (5mg) of finasteride which is approximately 0.5 mL (-25%) compared to placebo in ejaculate volume.  However, the decrease in ejaculate has been seen to be reversible after the treatment has been stopped.
In the clinical studies with Propecia, the incidences for breast tenderness and enlargement, hypersensitivity reactions, and testicular pain in finasteride-treated patients were not different from those in patients treated with placebo.
Long term side effects (up to 4 years)
Long term side effects of Finasteride were extensively studied in the Finasteride 5mg (Proscar) Long-Term Efficacy and Safety Study for 4 years in 3040 patients (1524 on Finasteride 5 mg/day and 1516 on placebo). 3.7% (57 patients) treated with finasteride 5 mg and 2.1% (32 patients) treated with placebo discontinued therapy as a result of adverse reactions related to sexual function, which are the most frequently reported adverse reactions.
Although the initial side effects of Finasteride has been higher than placebo over time the difference decreases to the point that in years 2-4 of this research, no significant difference between the two groups (treatment groups and placebo) was reported in terms of the incidences of impotence, decreased libido and ejaculation disorder.