Ketoconazole for Male Patterned Hair Loss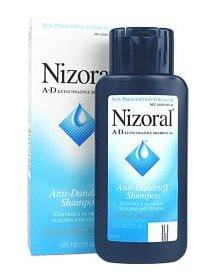 There are several studies that suggest ketoconazole (Nizoral Shampoo) to be beneficial for men with male patterned baldness.  Ketoconazole has been compared with minoxidil in a research in 1998 that (ketoconazole 2% vs.  minoxidil 2%  in men with typical male patterned alopecia.  The study indicated improvement of hair density and growing hair with both medications.  Both 1% and 2% solutions and shampoos reported to benefit patients with male patterned hair loss.  The shampoo however needs to stay on scalp for at least 3 to 5 minutes before it is rinsed, which is not always easy in our today's life.  Ketoconazole shampoo is used for treatment of seborrheic dermatitis or hair dandruff.
At this time, Nizoral Shampoo is not FDA approved for the treatment of hair loss and thus is not endorsed for this purpose for public.  We recommend finasteride for most men with active male patterned hair loss which has higher potency for correcting male patterned balding in comparison to minoxidil.  For more information on this topic, please visit our page discussing minoxidil vs. finasteride for hair loss.