Finasteride (Propecia)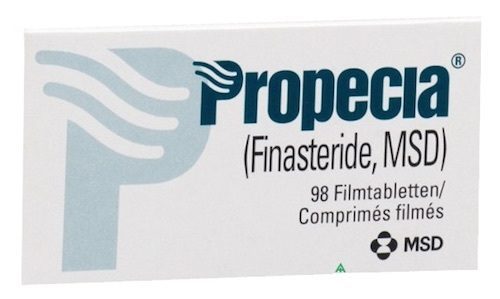 Finasteride is used for the treatment and prevention of male patterned hair loss.
In an experimental study, men with mild to moderate hair loss took 1 milligram of finasteride over a 5 year period.  Of those, 48% experienced at least some regrowth of hair, while 42% had no further hair loss. Propecia must continuously be taken or else the results will be lost within a few months.  During the study, it was found that the most hair growth took place in the crown area, although it was shown to be effective in the hairline as well. Propecia has been shown to be ineffective for treating typical female patterned hair loss.
Androgenetic Alopecia, also known as male pattern baldness, is caused by Dihydrotestosterone (DHT), which causes shrinking or miniaturization of the hair follicles over time.  This does not affect the hair in the back or sides which is known as the permanent area. The miniaturized hair will become very short and fine before completely falling out. DHT is formed by the action of the enzyme 5-alpha reductase on testosterone. Finasteride works by suppressing the enzyme 5 alpha reductase Type 2, which is responsible for the conversion of testosterone to DHT hormone. Finasteride, well known by its popular brand name Propecia, is one of the two FDA approved medications for treatment of male patterned hair loss.
Side Effects
Finasteride side effects are relatively rare when taken at the recommended dosage.  Sexual side effects such as decreased libido in men have been reported in certain male patients. Initial studies have shown a few cases of sexual dysfunction that were usually reversed after the patient stopped taking the medication. Irreversible side effects are rare but reported.
Long-Term Benefits
Finasteride is most effective when treating the areas of the scalp that are thinning, but does not seem to stimulate hair growth in completely bald areas.  The major advantage of Finasteride is the ability to maintain ones' hair or considerably slow down hair loss. The results are most apparent after one year of use, although there might be some minor decrease in effectiveness after 2 years. Studies confirm there are long term benefits for continually taking Finasteride.
Supplement
While it is not always necessary, Propecia helps minimize shock loss after hair transplantation and is therefore recommended for the first few months after a hair restoration procedure.